IdeaPad U300s UltraBook at IDF 2011
Lenovo showed off the IdeaPad U300s at IDF 2011 this week. A follow up to the IdeaPad U260, the U300s sports an all-metal enclosure and some respectable specs. More importantly, it looks and feels great and will surely appeal to those who are able to lay their hands on it.
The U300s is an Ultrabook, a designation Intel's promoting for a new generation of thin and light notebooks. It's impossible not to compare Ultrabooks to Apple's 13″ MacBook Air, but that's necessarily a bad thing.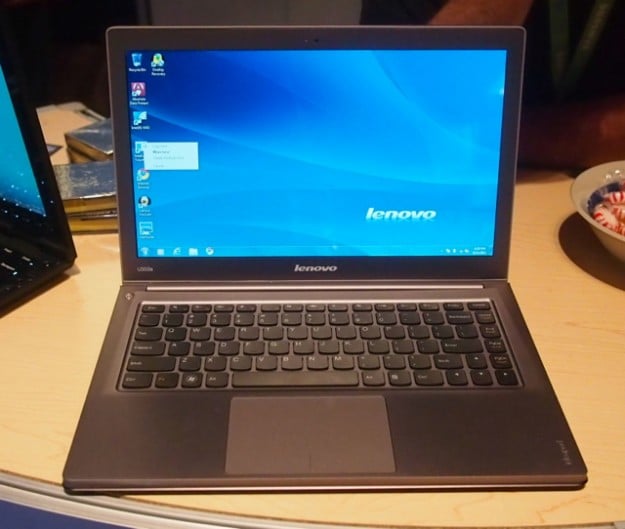 While I love the ThinkPad X1, the IdeaPad U300s may become my top pick for those looking for a new Lenovo notebook. It combines a lot of features that will improve the daily user experience such as a 10.5 second boot time, rapid charging and eight hours of battery life.
Here's a Lenovo-produced video about the making of the IdeaPad U300s
The IdeaPad U300s is indeed thin and light, measuring .6″ thick and weighing in at 2.9 pounds. Its all-aluminum shell gives the U300s rigidity not found in ultraportables made of carbon fiber. The prototype U300s I played had a great build quality, something that can't be explained in photos and spec sheets.
Lenovo claims that the IdeaPad U300s will last for up to eight hours on a single charge, which is quite an accomplishment for a Windows notebook this size. More impressively, the battery can be charged up to 50% in 30 minutes.
While the MacBook Air has a minimalist approach to ports, the IdeaPad U300s has both an HDMI and USB 3.0 port. While the MacBook Air has a Thunderbolt port that doubles as a DisplayPort, HDMI displays are much more prevalent in consumers' homes and places like hotel rooms. The one thing that I don't like about the IdeaPAd U300s so far is that it lacks an SD card reader.
Of course nobody's going to mind the Core i7 processor and 256GB SSD packed into the U300s.
The IdeaPad U300s has a nice big trackpad and the keyboard is just what you'd expect from Lenovo.
Lenovo's hardly the only PC manufacturer building Ultrabooks. We're seeing good things from Toshiba and others looking to upgrade the PC experience. One thing is clear- the notebook marketplace will look a lot different a year from now assuming that the PC makers can offer Ultrabooks at a competitive price. Only time will tell if consumers are willing to pay a premium for Ultrabooks like the U300s or if they'll continue to be drawn to more affordable alternatives.