IDF 2010: OpenPeak OpenTablet 7 on Video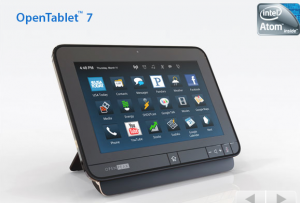 The OpenPeak OpenTablet 7 will become consumer's '4th screen' if AT&T and other OpenPeak partners have their ways. The seven-inch device looks promising and I can definitely see it going mainstream once AT&T and other providers throw some marketing muscle behind it.
Avram Piltch of Laptop Mag and I found the OpenTablet 7 on display at IDF 2010 and shot a quick video walkthrough of the device. It's well built, has a responsive multi-touch display and runs Android 2.1. While it is a portable device, it will be positioned as a home device, combining VOIP, video calling, web browsing and other applications. It has both a rear-facing camera and a front-facing camera for video calls. It runs on an Intel Atom processor, 2GB of RAM and an SSD, ranging from 8GB to 64GB in capacity.
The 7-inch tablet looks like a good consumption device, with web pages displaying in their full glory. Heavy web pages load quickly and the device is plays nicely with Flash content.
The OpenTablet 7 will likely available through AT&T sometime next year, with other partners to follow. The UI, included apps and other details will vary depending on who your VOIP, 3G and broadband carriers are.
I did manage to knock one of the OpenTablet 7 demo units over and it seemed to handle the abuse pretty well. It feels solid, unlike most of the budget devices we often see at trade shows. While AT&T's yet to announce pricing on its version of the OpenTablet7, it will likely be subsidized and sold as part of a subscription package of some kind.