If you'd like a Fujitsu Lifebook T730, then "Like" it on Facebook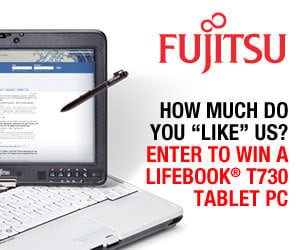 Fujitsu may have given me the best reason to join Facebook yet. They're giving away a Lifebook T730 Tablet PC to one lucky person who likes them on Facebook.
The T730, which made its surprise debut two months ago, sports a 12″ display with dual digitizer pen + multi-touch. It's not the sleekest, sexiest model from Fujitsu, but it sports their unique design features, such as modular bay, honed through years of designing their beloved line of Tablet PCs.
Details of the T730 on their website, but really, if you're already on Facebook, you might as well try for one regardless of what you think. You only need to "like" them on Facebook (which doesn't really mean you like them) and be 18 years old in the U.S. (sorry again non-U.S. people). That said, I'm sure a lot of people who don't really like Fujitsu have already "Liked" them on Facebook. I encourage anyone reading this to go "Like" them and improve the odds that someone who actually likes Fujitsu and/or Tablet PCs (or just GottaBeMobile) wins that prize.
Edit: yeah, I got the numbers mixed up. This is the T730 business class, high-powered model like the T900 I reviewed but smaller.
Grand Prize Drawing is for a new LifeBook T730 Tablet PC — our 12.1″ convertible tablet with Dual digitizer for both pen and finger touch input!

Use your fingers for an interactive touch experience and zoom into maps, rotate objects, launch applications and more. Use the pen for digital inking and signature capture.

The LifeBook T730 is a flexible and powerful convertible notebook with a modular bay that lets you swap out the optical drive for a 2nd battery, 2nd hard drive or weight saver.

Can your notebook do this?

2nd Prize

Second Prize winner will receive Fujitsu gear – Fujitsu mug and tote bag.

3rd Prize

Third Prize winner will receive Fujitsu gear – Fujitsu mug and cafe apron.

Prize Eligibility

Only persons residing in United States who are at least 18 years of age can enter.

Sweepstakes Starts

July 14, 2010 @ 12:01 am (PDT) (GMT-08:00) Pacific Time (US & Canada)

Sweepstakes Ends

August 11, 2010 @ 11:59 am (PDT)