iFixit iPad Air Teardown Reveals Obvious Low Repairability Score
As always, the brave folks at iFixit have gotten a hold of the new iPad air and immediately threw it up on the surgery table to see what's inside. The iPad's design has stayed relatively the same through three generations, but this time around, the iPad air has an all-new look, which makes us curious as to what changed on the inside.
iFixit completely tore about the new tablet, and what it's come to find is certainly no surprise; they gave it a measly score of just 2/10, making it one of the lowest-scoring products that iFixit has torn apart. However, this really isn't bad news per se, it merely just means that if your iPad air broke in some way, you wouldn't really be able to fix it yourself, unless you have some mad skills.
The good news is that the display comes in two separate components, with the LCD and the front glass separated from one another, making repairs on the screen a lot easier this time around. In the past, Apple has been known to fuse the two together in order to make devices thinner.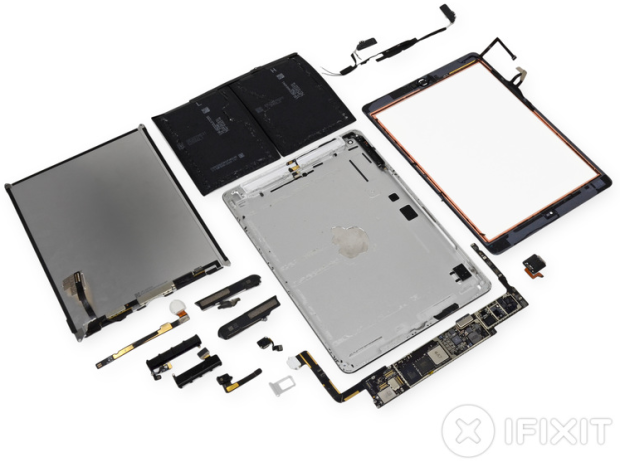 However, there's a ton of glue inside the iPad air, with the battery seeing a generous amount that makes it one of the most "difficult battery removal procedures to date." The display also has a ton of glue applied to it to keep it securely fastened to the rest of the tablet.
As for other easily-repaired components in the iPad air, besides the display, the SIM card slot is a modular component that's separate from the tablet's logic board, making it an easy replacement if it ever fails. However, it's still glued in, so it'll take at least a bit of elbow grease to pop it out.
Of course, we also get a glimpse at that 64-bit A7 processor, as well as the M7 motion coprocessor that Apple keeps talking up. There are several apps available that take advantage of the M7 chip, but there are still some popular fitness apps out there that still have yet to update with support for it.
After the logic board and the battery are removed, it's pretty much downhill from there, as other smaller components are just a screw or two away from popping out, including the Lightning connector, both cameras and the WiFi antenna.

As an Amazon Associate I earn from qualifying purchases.