iFixIt Tears Down Amazon's Kindle Fire
Just a couple of days after they tore down the Motorola Droid RAZR for the world to see, iFixIt is back once again and have torn down Amazon's Android-powered Kindle Fire tablet. So if you've been curious to see what makes Jeff Bezos' $200 tablet tick, you're in luck.
Unfortunately, the tear down didn't reveal in much in the way of surprises. From the outset, we get a look at the Kindle Fire's very simple design which is devoid of cameras, fancy ports and any sort of a physical home button. That of course is just one of the differences between it and most of the Android tablets that have hit the market over the last year or so.
From there, we're taken on a journey through the Kindle Fire's guts which are accessed using nothing more then a plastic opening tool and a guitar pick.
Taking off the outer shell reveals the motherboard and the device's massive battery which has a 4400 mAh capacity.
We're then taken to the Kindle Fire's core where we get a fantastic look at the tablet's innards which include everything from Hynix H9TKNNN4K Mobile DDR 2 RAM to its Texas Instruments AIC3110 Low-Power Audio Codec With 1.3W Stereo Class-D Speaker Amplifier.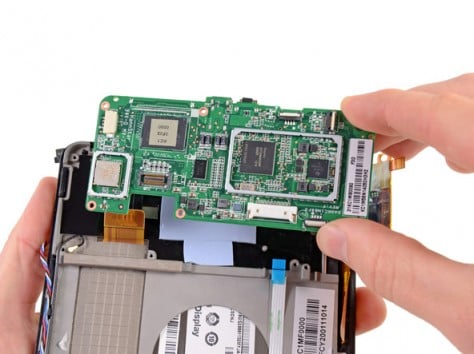 So for those of you who are now proud owners of the Kindle Fire, we just got ours, take a moment to sit back and appreciate the little things that make your new, inexpensive tablet run.

As an Amazon Associate I earn from qualifying purchases.