iHome Enters Android Market with Speakers for Tablets and Phones
iHome Audio, best known for iPhone and iPad audio accessories, is entering the Android market with three new Android focused alarm and speaker systems using what they call SmartDesign.
iHome Audio's new Android speakers are the iC50 Space Saver FM Stereo Alarm Clock Radio, the iC3 Portable Stand, Stereo Speaker and Charging Dock for Android Tablets and Smartphones and the iC16 Portable Alarm Clock Stereo Speaker with USB Charging for Android Smartphones.
I've tested a number of iHome speakers and charging solutions and usually come away pleased. Past iHome products worked with some Android devices thanks to Bluetooth connectivity or an auxiliary input, but none focused on Android phones and tablets likes these.
You can find the two of the Android accessories at iHome today. The third is not available until later this year.
Unfortunately users cannot just dock their phones and start playing music. These docks require the use of the line in jack, rather than sending audio over Micro-USB or by Bluetooth.
iC50 Space Saver FM Stereo Alarm Clock Radio for Android Smartphones
The iC50 will work with most Android phones thanks to a sliding micro-USB connector.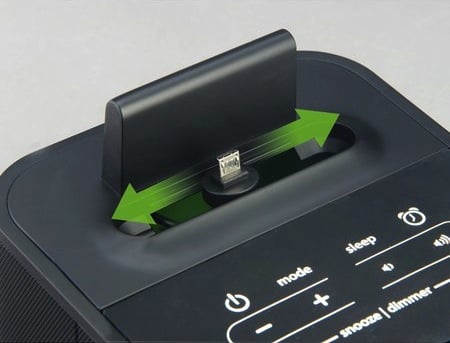 If you've used typical iPhone docks, you know that the dock connector comes in the center of the bottom edge of every iPhone or iPad ever made. Android handset makers put the micro-USB port in different spots, complicating docking solutions. With the iC50 you can slide the connector to match your phone. A plastic piece sticks up behind the connector to hold the phone upright. If your phone's port comes on the side of the phone, you can put it in landscape mode to make it fit (see image below).
In addition to a charging solution you get a stereo alarm clock with an FM radio built into the charging station. Set it to wake you up or go off after you go to sleep at night.
EXB bass enhancement promises good sound for a clock radio. In my experience most iHome products sound decent.
iHome offers an Android version of their iHome Sleep app so you can listen to the music on your phone while you go to sleep or to wake you up. The gradual wake feature doesn't jolt you to consciousness. Instead, you slowly awake as the sound progressively gets louder.
Like most iHome speakers, you get an Auxiliary input jack for other sound sources to play through the device. The iC50 includes battery backup for when the power goes out.
The iC50 is $59.99 and the iHome Sleep app is free from the Google Play Market. Get the iC50 for $10 less at Amazon.
iC3 Portable Stand, Stereo Speaker & Charging Dock for Android Tablets & Smartphones
The iHome iC3 is the other new iHome Android device currently available and it works with both phones and tablets. The same sliding dock fits your device regardless of where the manufacturer put the micro-USB charging port. It has a larger holder behind the USB connector so it can handle the added weight of a tablet.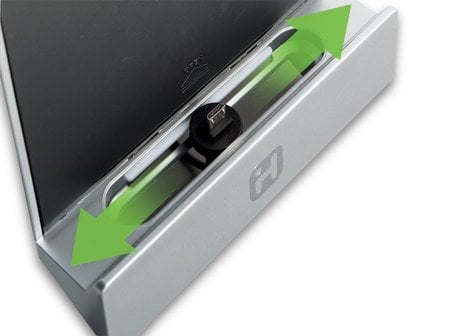 The iC3 doesn't include a clock or radio. You can still use the free app so that you can transform your tablet or phone into an alarm clock.
The device offers Reson8 speaker chambers that resonate the sound to amplify it. It also includes an auxiliary input and runs on either AC power or 4 AA batteries you provide. It includes the same EXB sound enhancement that the iC50 includes.
The iC3 costs less at only $39.99 directly from iHome Audio or Amazon.
iC16 Portable Alarm Clock Stereo Speaker with USB Charging for Android Smartphones
iHome won't sell the iC16 until the summer, but when they do it will retail for $59.99. The device includes an alarm clock the works with the iHome Sleep app, stereo speakers and a USB port to charge another phone or device. The iC16 will take up less space than the above charging stations, so you can throw it in your bag for road trips.

As an Amazon Associate I earn from qualifying purchases.