iHome iB40 Headphones: Decent Sound at Budget Price
If you're looking for a budget set of headphones that still produce decent sound and rich bass, then you should give the iHome iB40 Headphones a look. They're comfortable, have an understated look, and produce good sound for the money.
I hate ear buds! When I'm around the house and want to listen to some music or a podcast online without bothering my family, I'll put a pair of headphones on.
While there are many premium priced headphones on the market, I don't listen to a lot of music, so I don't need $100-200 headphones. Still, I want decent audio quality an an affordable price. This made using the iHome iB40 headphones as my new go to set of cans an easy choice.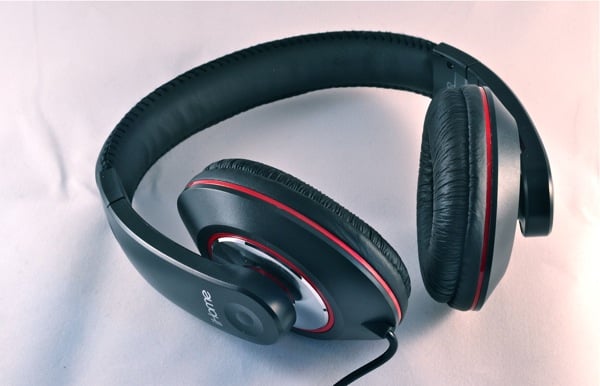 Good Value for the Price
They're your basic set of headphones. They come in black with a red line around them for accent or white with purple (see last photo below). They adjust to fit even big-headed people like me. I can plug them into my computer close by or my iPhone even if it's sitting a few feet away because of the nice long cord. The volume dial sits close enough to the speaker that you can reach it and you don't have to adjust the volume on our device. The included 3.5mm to quarter-inch adapter will let you use them with higher end audio equipement if you need to.
I tested the iB40 Headphones with some spoken work, classical music, pop, and some of my son's hip hop with hard-driving bass and they sounded good in all genres. No, they can't compete with a $100 or higher set of cans, but at $29.99 you get better than expected sound and pretty rich bass.
Slight Distortion and Sound Bleeding
The only distortion I heard came when I pumped the volume all the way up to the highest setting on the source and with the in-line audio dial. Turn the volume down just a bit and it goes away.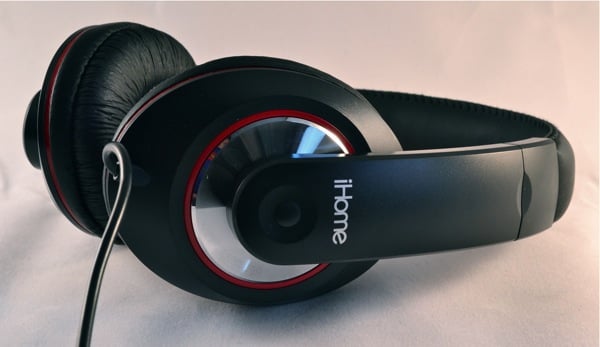 At that highest level you will entertain your neighbors. I asked my son to try them out and as he blasted his music I could hear well enough to understand the words to the song. We slowly turned up the volume and the music could be heard by the person not wearing the headphones starting at about 80% volume. You could hear things distinctly at about 90%.
I don't feel comfortable with headphones set at above 80-90 percent most of the time anyway, so I didn't notice a problem. My son, like most 17-year-olds, likes to blast his music. If you have a kid like mine, you'll have to keep asking them to turn down the music, if you don't want to hear it. If you like to listen loud on the airplane, these headphones won't be the right choice for you.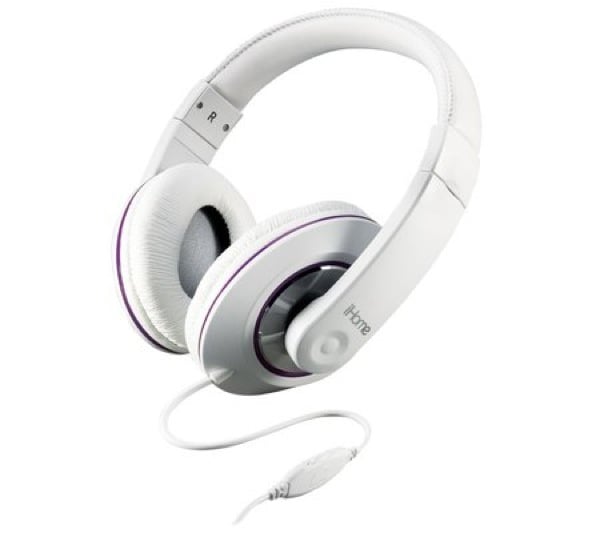 Bottom Line
For only $29.99 you can't expect too much of your headphones. Fortunately, the iHome iB40 delivers more than you would expect with decent sound, rich bass and comfort even for someone with a large head. I like the long cord freeing me from being too close to my computer and since I don't pump up the volume to the max levels, the two drawbacks don't affect me. The distortion and audio bleeding out to those around you will only show up at 80-90 percent or higher volumes
We're recommending these cans as one of our Valentine's Day Gift Guide selections and while you're at it you can pick up a pair for yourself. You won't likely find a better set at this price point. If you want great audio, then you'll have to pay for it. If you just want an inexpensive set of headphones, I recommend the iHome iB40 headphones which you can find at Amazon for $19.99.
iHome has your pair and you can get them even cheaper at Amazon for $19.99.