iHome iDL45: Clock Radio with Lightning Dock for iPad and iPhone
The new iHome iDL45 FM stereo alarm clock radio puts a Lightning dock connector on top of an alarm clock with FM radio that charges and plays music from a user's iPad with Retina, iPad mini, iPhone 5, iPod Touch fifth gen or newer Apple iOS devices.
We're finally starting to see Lightning docks and charging accessories, but the iHome iDL45 is one of the first full-featured docks.
Unfortunately, the iHome iDL45 sounds subpar.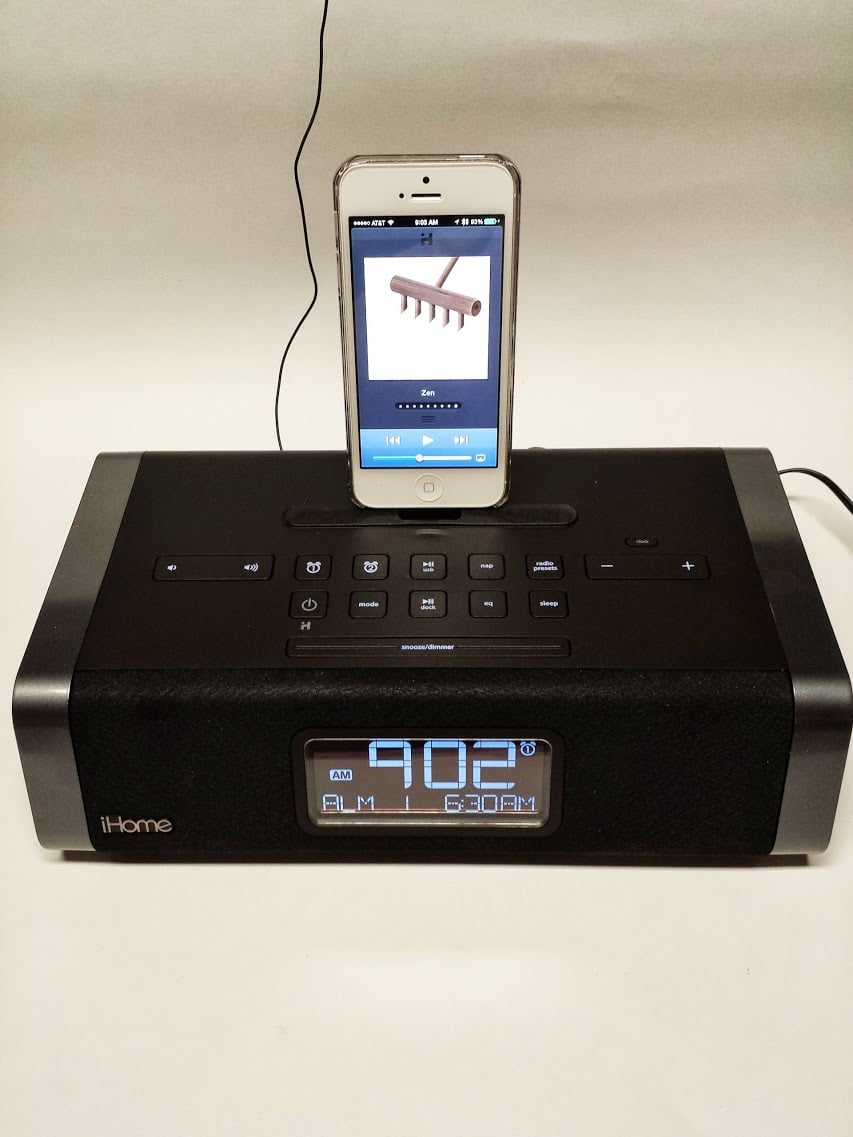 iHome Audio put a ton of features into the iHome iDL45. Here's a list of what's included:
Lightning connector works with iPhone 5, iPod Touch 5th gen, iPad mini, 4th gen iPad with Retina Display

Dual charging with dock and USB port on back
Wake or sleep to music on iOS devices or FM radio
Reson8 speakers
Programmable snooze and sleep timer via iHome Set app
Gradually raises audio of alarms or sleep feature
Dual alarms
Time Sync between device and dock with push of a button
FM Radio with 6 presets stations
External FM antenna
Stereo auxiliary input on back
Adjustable EQ, bass, treble, balance and 3D sound
Battery back keeps time and settings saved if power goes out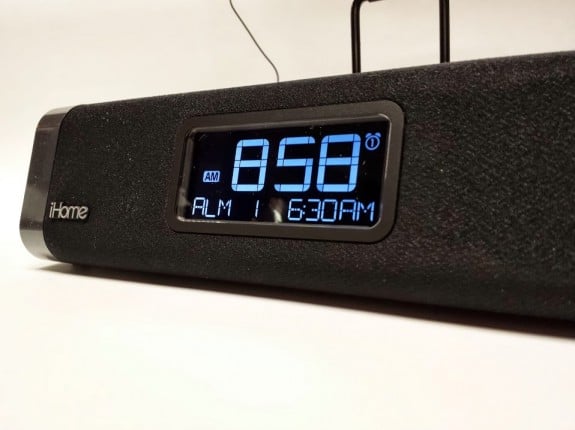 What We Like
The iHome iDL45 comes packed with features. Being able to charge two devices saved us space on the wall outlet and our nightstand. The stereo input on the back expands the speakers to allow non-iOS audio devices to use it, like Android phones.
The large display makes it easy to see the clock across the room. The snooze button also will dim the display to make it less annoying in a dark room.
The iHome iDL45 sets up easily. Set the time by inserting the iOS device and hit the clock button. This syncs the time from the device to the dock, keeping them in sync.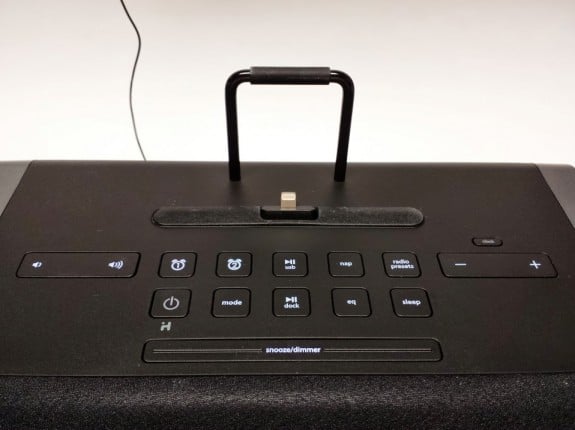 We like the programmable snooze, sleep timer and the gradually increasing or decreasing volume of the alarm or sleep timer.
The dock controls iOS devices whether we plug them into the USB port or the dock on top. The user can quickly change between them to play music from either device. The on dock controls will play/pause/skip the audio.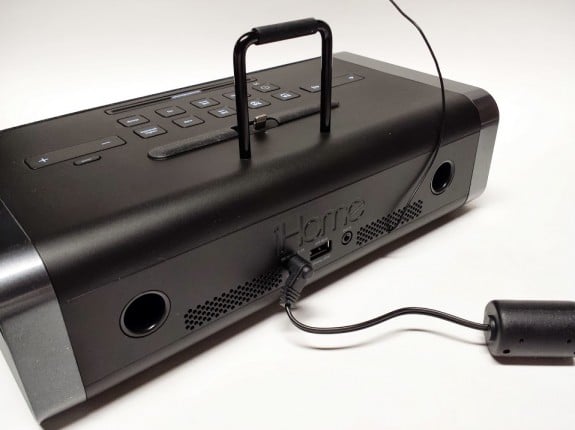 What We Don't Like
The audio of the iHome iDL45 could sound better. It's extremely loud but a bit tinny. We fixed it a little by changing the equalizer in the iHome Set app to raise the level of the base, but it still sounds average at best.
The dock comes with a massive wall wart power supply. We wish they'd fix this so that we could plug it in without blocking other outlets.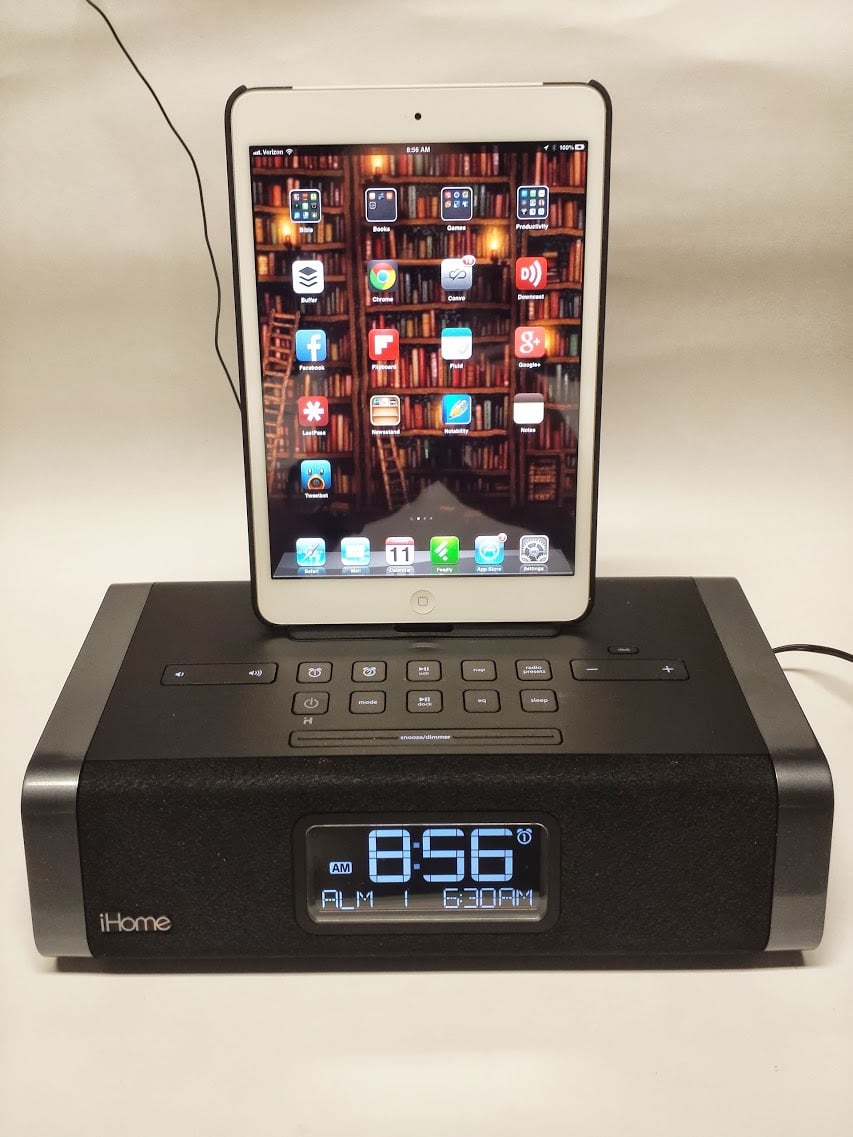 Recommendation
With crisper and cleaner sound, we wouldn't heistate recommending the iHome iDL45 event at $100. However, we know that most people don't use an alarm clock as their primary listening tool. It's nice to wake up to music instead of a blaring screeching alarm. Because of the great convenience and lots of features in a fair price, we still don't mind calling this one a buy.

As an Amazon Associate I earn from qualifying purchases.