iHome iDM5 Turns iPad Into a Desktop and Stereo System
iHome announced the iHome iDM5, a new iPad accessory that turns your iPad into a desktop computer and a stereo audio system. The question is, "Does anyone want to do this?"
iHome makes a bunch of audio docks and speaker systems for iOS devices mostly, although they offer systems compatible with Android and other devices via stereo jacks and Bluetooth. This one seems a little odd to me, but at the same time kind of cool.
The system looks like a triangular-shaped keyboard with retro look that reminds me my first computer back in the early eighties. Flip open the lid and you see a keyboard with a groove made to hold a tablet. The lid serves as a holder for the tablet. You can use your iPad or Android tablet in portrait or landscape mode. It doesn't have a dock connector for iOS devices to actually plug into making it universal. You could even use an iPhone or any Android smartphone with Bluetooth.
The speakers work via Bluetooth or a stereo 3.5mm jack. You can type and stream music simultaneously over Bluetooth using the iDM5.
In addition to the keyboard you get stereo speakers with SRS TruBass sound enhancement, SoundClear Voice echo cancellation and Music 3D technology. All that means your music should sound pretty good even though you're streaming it wirelessly via Bluetooth to the tiny speakers.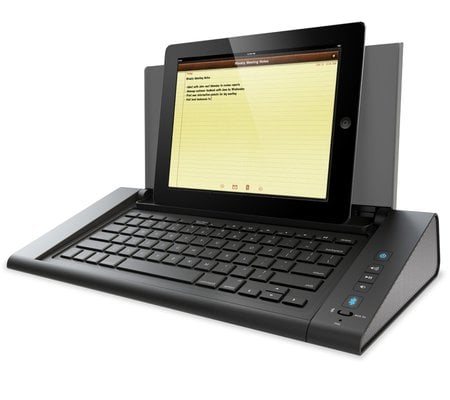 The system will let you charge the device and another one via two powered USB charging ports. You can plug your tablet and phone into the iDM5 and charge them both at the same time.
This sounds like a decent solution for people who need to charge two devices on the desk. You get both the charging ports and the keyboard making it a better fit for an office or home office than your bedroom. Although its smaller than old-fashioned laptops were, it seems more like a solution to place on a desk and leave their most the time. I'm sure you could take it with you if you really wanted to.
You can buy your own iDM5 from iHome directly for $129.99.

As an Amazon Associate I earn from qualifying purchases.