iHome Lightning Docks Arrive for iPhone 5 and iPad 4
iHome Audio recently introduced two new iHome Lightning Docks that make use of the Apple Lightning connectors. They are the iHome iDL45 for iPad and iHome iPL10 for iPhone 5. These docks give users two of the first docking stations available to charge Lightning enabled iOS devices.
When Apple first introduced the new Lightning charging and syncing interface for their iOS products, accessory makers promised to support it but few actually shipped products right away. The iHome iPL10 and the iHome iDL45 mark two of the earliest docking stations for Lightning products.
iHome iP45
The iHome iP45 dock for the Apple iPad and other iOS devices ($99.99 at iHome Audio) includes a dual alarm clock and FM radio. It charges the iPad fourth generation, or what people often call the iPad 4. Users can also put their iPhone, iPod Touch, iPod Nano or iPad mini into the dock.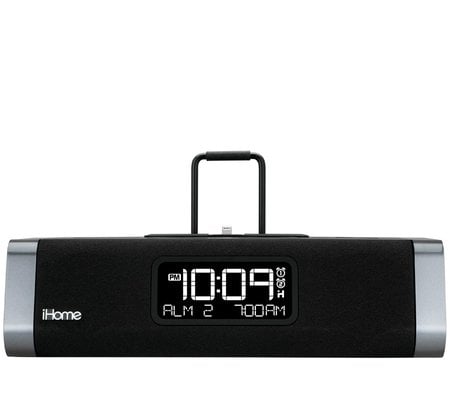 The alarm will wake up sleepers by playing a playlist from the device or from an FM radio station. It also features a gradual wake and gradual sleep setting that slowly turns the sound up or down. The dual alarm feature lets users set one alarm for week days and a separate for weekends.
The dock will charge and sync iOS devices. An extra USB port on the dock will charge a second iOS device or any other USB-powered smartphone, tablet or accessory. The user must supply their own cable for this.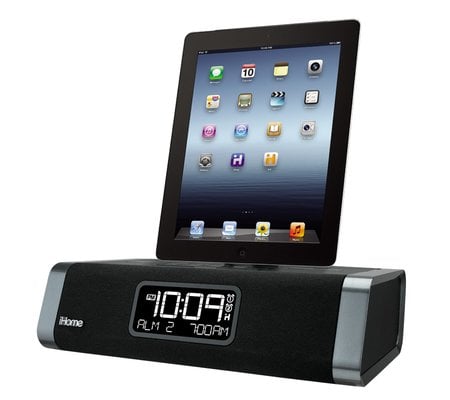 The auto sync feature will sync the clock on the base with the iOS device's clock upon docking the device.
The built-in FM radio includes EQ controls, 3D surround and Reson8 sound technology, which iHome puts in their audio products. They promise "exceptional audio experience."
The iDL45 measures 10.64″ W x 4.26″ H x 6.23″ D and weighs less than three pounds. While it's wide enough for the largest fourth generation ten-inch iPad, it will also work with an iPad mini or iPhone 5.
iHome iPL10
The primary difference between the iDL45 above and the iHome iPL10 ($79.99 from iHome Audio) is size and shape. The iPL offers the same features and specs listed above, except it comes in a nearly perfect square measuring 5″ W x 4.49″ H x 4″ D and weighs only 1.21lbs. iHome designed it to work with the iPhone 5 and iPod Touch or iPod Nano.
The iHome iPL10 also includes a USB cable to charge other older 30-pin iOS devices or iPods as well as any other USB powered phone, tablet or accessory.