Ilium Software's Inscribe For UMPC On View At jkOnTheRun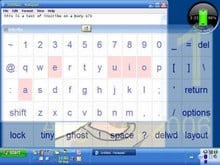 James Kendrick takes a look at Ilium Software's new (Beta) on-screen keyboard software, InScribe, on jkOnTheRun.
InScribe is an on-screen keyboard that is operated with the stylus and entering text is as simple as dragging the pen across the keys to spell the desired word. As you drag the pen over the various letters (slightly hesitating over the desired letter) InScribe spells the word and enters it into the active window in Windows XP. You can set the options to automatically enter a space after each word which means you can fluidly enter a block of text very quickly and simply. It is the fastest on-screen keyboard I have ever worked with and very accurate, probably because it is a full QWERTY keyboard laid out just like you expect it to be.
jk seems to like what he sees, so you might want to check out the post for the rest of impressions. Initially targeted for the UMPC, it also will work on a Tablet PC. The Beta is apparently closed at the moment, but this might be input software to keep an eye on.