I'm Happily Surprised by iPhone 4 Battery Life So Far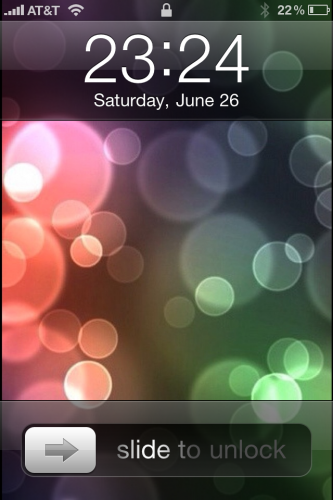 Set aside that the wrongly named left handed reception issue is the big iPhone 4 story of the moment, and may indeed turn into this gadget's legacy. This post is about my early discoveries with battery life. You know, the bane of the smart/super phone industry. After the initial iPhone reviews broke in the mass media and on preferred blogs I posed a question that wondered if battery life would be the story about the iPhone 4, in the way I feel it was and is with the iPad. That question was based on Josh Topolsky's claims on Engadget that in his use he was able to go 38 hours without charging up. After picking up a new iPhone on launch day, I doubted Topolsky's claim in my early testing. But it looks like I'll have to modify those doubts.
Battery life, like so many other factors about mobile gadgetry, depends on how and how much you use the device. I've been personally bemoaning the fact that I'm in a busy period of work and not able to spend any time really checking out the new device. Turns out that just using the phone the way I do on many days, I've learned some interesting things about battery life that make me ponder that original question anew. Usually when I'm testing out a new gadget or a review unit, I check it out top to bottom and really hammer the device. My schedule didn't allow for that this time around, and essentially I used the iPhone as I had been using its predecessors in my daily routine, not in any sort of review testing mode.
I have to say that my daily routine changes depending on my work load. Since Thursday morning's launch and returning to my office, I've been in what I call "desk mode" quite a bit. That means I'm at my desk most of the day and evening, stepping out for meetings or to grab a bite to eat, or to head home. There's a few exceptions to that which I'll chronicle below.
Here's the bottom line. Thursday night before turning in for the night I charged the iPhone up to 100%. I took it off the charger about 12:45am and went to bed. Last night (Saturday) I put it back on the charger before heading to bed at 11:24pm. The battery indicator was reading 22%. You do the math. That's just under 47 hours with 22% remaining.
I'm sure some are saying well your "desk mode" routine kept you from using the phone during that period. The answer to that is yes and no. Yes, because I do use a land line for quite a few calls and my desktop for quite a bit of Internet work. During this period I made or received 38 calls on the phone and sent or received 15 text messages. I checked and responded to email less frequently than when I'm on the road, but probably did this about 20 times or so. I installed or updated something like 14 apps. I did some "stall surfing" web browsing and checked feeds on the phone at least a dozen times. I played no music (background or otherwise), played no games, nor did I watch any video on the device, but then that's typical for me in these periods. I don't think I was doing any multi-tasking. During this period I had WiFi on the entire time as well as the Bluetooth radio. When I was in my car, I had the Jawbone Icon headset running. (A casualty of iOS4, the AD2P profile doesn't work well with the Jawbone Icon.) That's all pretty much a typical day when I'm in "desk mode."
The deviation from that normal "desk mode" routine occurred yesterday late afternoon and evening. One of the the things I've enjoyed about the iPhone is taking pictures and I was anxious to check out the new camera. So between shows at the theatre yesterday, and during the evening performance I snapped about 30 or so photos around the theatre. (I'll write more about this in the iPhone 4 review I'm preparing, but i'm very impressed with the iPhone 4 camera, especially in low light.) I transferred these photos to either the iPad, or my MacBook Pro via WiFi using Pastebot on the Transfer apps.
While taking these pictures I wandered into the cell phone reception random zone that is our theatre space. In the theatre space proper we sometimes get excellent coverage on most networks (except T-Mobile) and some times not. It's about as random as those who love randomness could wish for. But as everyone knows when a cell phone is trying to hang on to a signal, battery juice is being drained. There is no WiFi coverage in the theatre space proper so it is all 3G. I pinged my email and the Internet several times during this period. True to the randomness quotient, sometimes I'd get through, sometimes things would just hang. Trying to load web pages with heavy graphics yielded quite a few stalls. Nothing new there. With the 3G and 3GS versions of the phone I would frequently go into Airplane Mode and turn off all the radios to prevent the battery running down on days where the reception was just not up to snuff. During this half hour or so period of testing I saw battery life drop about 5%. Given that after I checked battery life Friday morning after heading to bed with a full charge the night before and saw a decrease of only 2% I found that impressive.
With those two exceptions to my "desk mode" routine, I'd say that this was a pretty typical "desk mode" day for me in terms of how I use the iPhone.
I'm not saying that the battery life of the iPhone 4 will yield these results every time for me, nor will they yield you similar results. Your mileage (and mine) will indeed vary. Again, everyone's usage patterns are different. My first day usage being on the road yielded an entirely different but not measurable result. What I am saying is that I'm happily impressed with what I discovered during the period between closing my eyes on Thursday night and putting the phone back on the charger Saturday night.
These next two weeks will find me rehearsing two shows simultaneously in two different locations about 15 miles apart. I'll be in the office in the morning, at the theatre in the afternoon, and at the other rehearsal location in the evening. That location is a no connectivity zone in a very rural area. Nothing connects there, so I'll probably switch to Airplane mode while there, unless the new antenna yields a better result when I'm holding the phone properly. I'll be running like a mad man, depending more on the phone for checking in than I do when I'm in "desk mode." It will be interesting to see the difference.
Side note: While writing this review I've been charging the iPhone back up via USB on the Macbook pro. It too 2 hours and 14 minutes to go from 22% to 100%.

As an Amazon Associate I earn from qualifying purchases.