I'm in Love with the HP Vivienne Tam Netbook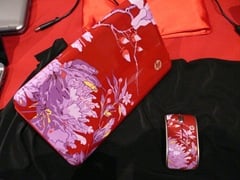 Ah, the joys of finding a shiny, new product that catches my eye. I saw the new HP Mini 1000 Vivienne Tam at Cntrstg and I have to say – WOW. From a fit, finish, and style viewpoint, this is a gorgeous netbook. Now I'll grant you, this is 100% a feminine focused netbook, so I'm squarely in the target market. But HP has done a great job in creating a netbook that appeals to the fashion-forward, female market. Most PC manufacturers miss the mark when trying to design for women, but for me, this one hit a home run. The matching Bluetooth mouse and the satin slipcase just add to the appeal. The keyboard and interior match the stunning red exterior.
I hope to have one of these in my hands soon where I can get a better feel for the performance aspects of this beauty. On the inside, this is basically just a standard HP Mini 1000, so I expect the performance to match that system.

As an Amazon Associate I earn from qualifying purchases.