iMessage Fails Again with Outage Also Affecting FaceTime
Apple's iMessage service continues to show signs of spotty or intermittent service after an outage earlier this week that lasted for a few hours. Today, some users continued to experience problems with the service and took to Twitter to complain.
At first, despite many issues and many isolated reports of outages, Apple didn't acknowledge the outage. Here's their status page at 11:13, more than an hour after the problem started showing up for many users: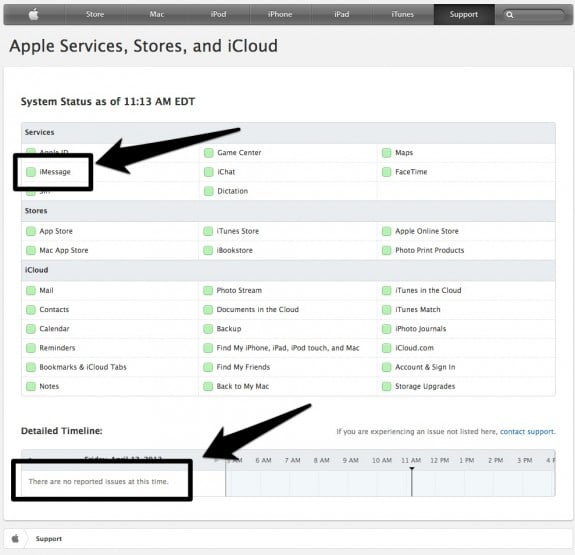 A quick survey of Twitter shows a number of users frustrated by iMessage failing. Here's a sampling from earlier today:
iMessage Again Down for Some Users [iOS Blog] dlvr.it/3D8Qn7

— Richard M Krawczyk (@TheMrBlueprint) April 12, 2013
iMessage won't send anymore. Guess I'll have to start digging into that unlimited texting plan then. 😥

— SG. (@illMindofGupta) April 12, 2013
Is iMessage not working again? FFS, Apple. Get it together.

— John B (@hornfrog1) April 12, 2013
Well, iMessage is on the fail end of things for today. Smh. Back to the simple way of communicating.

— David Moore (@King_DM3) April 12, 2013
When Steve Jobs was alive, we didn't have this problem. #iMessage

— ◎September 13th◎ (@FishOWTdaWat3r) April 12, 2013
Our team members experienced the following issues. One message sent to my son shows "Sending…" in the status at the top of the iOS Messages app. Another sent via Mac seemed to go through, however it never arrived on the recipient's machine. One message sent via Messages on an iPhone showed up on the recipient's phone as a text message and then a few minutes later the same text showed up as an iMessage.
Despite the large number of users experiencing the outage, Apple didn't acknowledge the problem until sometime right before 11:37 EDT on their status page:
Here's Apple's status timeline showing that the outage began before 11:00 EDT:
While writing this post the message that showed "Sending …" finally went through, but not via iMessage. It went through AT&T's texting service. This eats up a user's allotted text messages. Those who rely on iMessage to bypass their carrier's system due to a limited allotment in their service plan should stop using iMessage until Apple resolves the problem. Regular iMessages are blue bubbles, while normal text messages show up green.
This outage may not only affect iMessage. Photostream won't update either. We took a few different pictures on an iPhone and they never showed up on the iPad or Mac associated with the account. iCloud's email system seems unaffected. The status page also shows that the outage affects FaceTime, which runs on the same system as iMessage.

As an Amazon Associate I earn from qualifying purchases.