iMovie iPad 2 App: Disappointing Weaknesses in a Great App
We love the iPad 2 and especially GarageBand and iMovie. In fact, after thought the excitement about the iPad 2 had as much to do with these two apps as it did the faster processor, more memory, thinner design and the cameras. But now that we've played with iMovie for the iPad for a while, we are disappointed about a couple of things.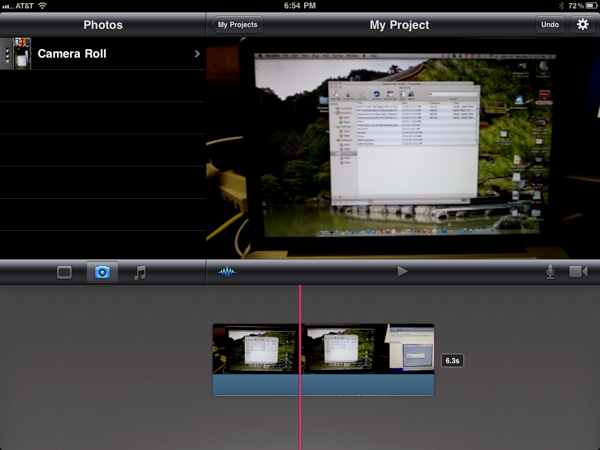 What's Great about the iMovie iPad 2 App
Ease of Use: We love that the iMovie iPad app is easy to use. Editing with your fingers instead of a mouse and keyboard is great. Xavier demoed what you can do in a short time recently. And while the quality of the iPad 2 still camera is not great, the video is fine for simple family movies or simple tasks. Even professional videographers have used it for a video shoot.
Speed: We like the way it exports the resulting project quickly. Speed comparisons say it is actually faster than iMovie on a MacBook. That is great if you are trying to quickly make a video of little Sally's birthday party to share a link with all her friend's mommies.
Price: The price is right too – $4.99 for a decent video editing app is crazy cheap. Some complained that it was not a built-in app. But Apple had to find ways to upgrade the iPad 2 with better hardware and keep the price the same or there would have been far more wrangling over a $549 iPad 2 16GB Wi-fi model.
What Disappoints us about the iMovie iPad 2 App
Video Compatibility: The sad truth is, iMovie is of limited value for a number of reasons. First, you can only use video shot on the iPad or with some work on the iPhone. The video codecs used make importing video from a third-party video camera or a point-and-shoot that also does video impossible. That is a severe disappointment. We were really looking forward to shooing video with a nice HD video camcorder and using the iPad Camera Connection Kit importing it in to iMovie for editing and quick sharing to YouTube or elsewhere.
Theme Selection: Limited themes are a problem. Not right now. People aren't tired of seeing them yet. But in a few months they will be. Will Apple allow for third-party theme plugings or update it every few months with new ones? Based on past history, we doubt it. So as great as the app is, the limited number of themes will make our videos look ordinary.
Because we can't import video we are unhappy. But it is also not possible to do an "Open In" like you can with some apps. iOS has a tool called the Share button. It looks like a box with a little arrow coming out of it. We think it would be nice if we could open our videos in other apps, like DropBox for sharing or in a third-party app that would let us solve our above second disappointment.
Check out our iPad 2 Review.

As an Amazon Associate I earn from qualifying purchases.