Important Star Wars: Battlefront Beta Release Date Details
Rarely does the release of a first-person shooter – or game belonging to any other genre – outshine the juggernaut that is Call of Duty in November. Game developer Electronic Arts tries to rain on Activision's parade every year with titles like Battlefield. This year, EA has a different game coming to take-on Call of Duty: Black Ops 3. It's called Star Wars Battlefront, and players will get to test it very, very soon.
Star Wars Battlefront is both a first-person shooter and a third-person shooter; players can switch the game's cameras with just a button press. It's a pretty straight forward battle simulation. Players of Star Wars Battlefront participate in huge battle simulations with authentic power-ups, weapons and vehicles taken from the Star Wars universe. Primarily, the game is aimed at multiplayer lovers and that's why there's a Star Wars: Battlefront beta release this week. Electronic Arts needs to test the game's systems and see how everything works out in the real world where internet connections aren't always the fastest.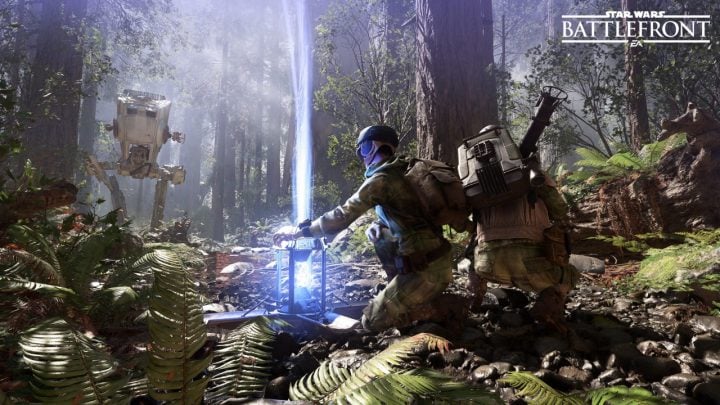 Here's what you need to know about the Star Wars: Battlefront beta release. That includes the exact date the trial period for the game starts and what gamers can expect from it when it does.
The Star Wars: Battlefront Beta Release Date
Electronic Arts and its DICE studio formally revealed Star Wars Battlefront over the summer, shocking just about everyone. You see, this year's Battlefront isn't the first game in the series, it's just a reboot of an earlier series that fans loved on older consoles.
The official Star Wars Battlefront release date is on November 17th. That's next month, just as the holiday shopping and gaming season are heating up. The Star Wars Battlefront Beta release is set for October 8th, this coming Thursday.
Typically with betas, only users who've already pre-ordered the game are outlet to test in the early days. After those first few days, the beta gets opened up to a wider audience, whether they've pre-ordered or not. EA is playing those games with the Star Wars Battlefront beta release. Absolutely anyone can download the game to their Xbox One, PS4 or Windows PC during the trial period.
There's no Star Wars Battlefront beta release on the Xbox 360 or PS3 because the game isn't coming to those consoles. Beta testing for the game will conclude on October 12th, according to Electronic Arts & DICE.
Getting the Download for Free Star Wars Battlefront Beta
To get the free Star Wars Battlefront beta the only thing gamers need to have is a modern day gaming console and a computer. Also, a pretty robust internet connection.
The final game will sell on disc and through digital stores, but the Star Wars Battlefront beta is strictly for users who don't mind downloading a large file over their internet connection.
On Windows PCs, the Star Wars Battlefront beta download should take up 11GB of storage space once installed. On the PS4 and Xbox One users can look forward to a download of around 7GB. Users who aren't comfortable with downloading a file that big over their internet connection, definitely avoid the beta download.
To avoid choking download servers on release day, Electronic Arts is working with Microsoft and Sony to provide access to the download before the beta starts. On October 7th, Xbox One and PS4 users will be able to download the Star Wars Battlefront beta. Users should be able to find the beta through each console's stores in their dedicated demo areas. To be clear, even if the actual download of the beta finishes on October 7th, the game's servers won't unlock until 1AM Pacific Time on October 8th.
Update: The Star Wars Battlefront Beta FAQ indicates that only Origin users on PC can expect to pre-download the beta early it seems.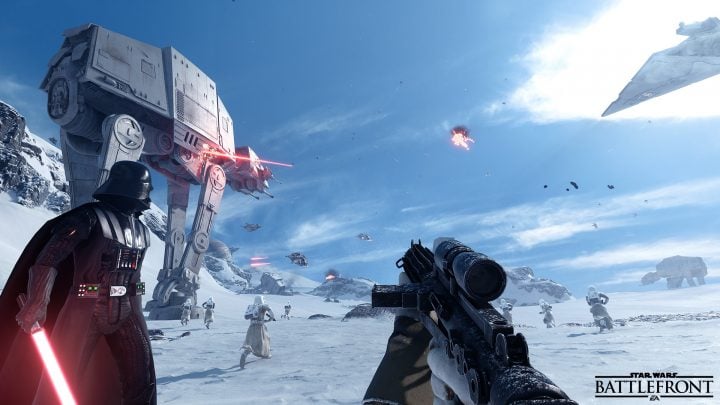 Don't Count on Keeping Your Progress From the Star Wars Battlefront Beta
The Star Wars Battlefront beta is for testing, not necessarily getting a leg up on the competition and other games. As such, participants shouldn't count on keep any progress they make over the time the beta is available.
Electronic Arts and DICE have confirmed that any progress made during the beta towards leveling will disappear when the beta is over. That means even players who purchase the final version of the game next month will need to start over. Additionally, players will only be allowed to reach level five before they stop progressing. Weapons and other items will be unlockable, but also won't carry over.
What's In the Star Wars Battlefront Beta
Star Wars Battlefront beta players can expect Walker Assault Mode, Drop Zone and Survival to be available during the beta.
Walker Assault takes place on the Hoth map and lets 40 players battle each other for supremacy. Drop Zone takes place on Sullust and involves 16 players battling in teams of 8 to control different escape pods. It's sounds very similar to capture modes from other multiplayer games. Finally, there's Survival Mission, which takes place on Tatooine. In this mode waves of enemies and enemy vehicles try to kill players and their partner.
Read: 10 Exciting Star Wars Battlefront Details
Good luck with the Star Wars Battlefront beta release this week. Again, Star Wars Battlefront launches on November 17th. It'll cost $59.99. Anyone who pre-orders get early access to the Battle of Jakku add-on in December at GameStop.