How to Improve Nexus 5 Battery Life
The recently released Nexus 5 by Google and LG is the best Nexus smartphone to date, and one of the better Android options available today. Being the first Nexus with a full 1080p HD display, 4G LTE, and then adding a powerful quad-core processor could have many worried about battery life. Especially considering there's only a 2,300 mAh battery under the hood.
Thankfully the Nexus 5 actually performs quite well here. No, it won't compete with the DROID MAXX, LG G2, or Galaxy Note 3 due to the smaller battery, but the N5 has the best battery life of any Nexus smartphone to date. While we're still in the testing phase on our own unit, I've easily made it through an entire day all week long. At least 10-12 hours of heavy heavy usage. However, there's always a few tips and tricks to improve battery life, and we'll detail the easy and quickest options below.
For starters, Google's made huge strides and has been working hard on making Android faster and smoother, yet more efficient at the same time. KitKat should offer some of the best performance over compared to previous releases, and Nexus 4 and other device owners can expect an increase to battery life.
Second, Qualcomm's Snapdragon 800 quad-core processor under the hood is the latest and greatest in CPU technology, and is one of the fastest and most efficient mobile processors on the planet. Combine those with some new battery saving features, and the tips and tricks outlined here and your Nexus 5 should have no problems lasting all day, and more.
Screen Brightness and Sleep Time
Having that 5-inch 1080p HD display turned on displaying Facebook messages, tweets, or while browsing the web will be the biggest drain on the battery. Screen On time under the battery stats page in settings is important, as the display will use more battery than anything else. You'll want to head into Settings > Display > Brightness and choose something that works for you. Auto isn't ideal for conserving battery, and I use somewhere around 20% brightness.
At the same time, you'll also want to set the display sleep time. This sets how long the display will stay powered on and lit up while not in use. Many just set a device on a table after use, and if this is set to two or five minutes, your battery will drain. I use 30 seconds personally, and always manually sleep my display after use, instead of just setting the device down. Others might suggest heading into Developer Options and disabling all of the animation effects, which can also increase battery life at the cost of the user interface and experience not being as smooth or pretty.
WiFi, 4G LTE & Bluetooth
As the obvious, if you aren't using WiFi or Bluetooth, you might as well turn them off. Even though they're minimal when it comes to battery drain this is one more quick and easy step. If you're in a WiFi location (coffee shop) yet not using WiFi, certainly turn it off as the device will continuously search for a network. Bluetooth being enabled isn't much of an issue, but while we're here, disable it if you haven't a need for it. Head into Settings and just slide to off both WiFi and Bluetooth. It's the first two options, you can't miss it.
Then as shown above, we have two more suggestions to help improve the battery life on your new Nexus 5 smartphone. One awesome new feature is the "Hotword Detection" of Google Now. Essentially letting your phone always listen for the keyword "OK, Google" to start a search using Google Search/Now. This is reported by Qualcomm and others as minimal for battery drain, but it's still firing up a sensor, thus disabling it can help preserve that battery. While we're here, try saying "Hey Google" "Listen Google" and other things, as many other commands work great. It's fun, but disable it if you'd rather just tap the microphone button manually.
Second on the image above is Preferred Network Mode. This is one we're not really a fan of. Why have the latest smartphone with 4G LTE, only to turn it off to improve battery life. It makes no sense to do so. However, those traveling in and out of good network services, or who don't actually have 4G LTE can simply disable this. Under Settings > More > Mobile Networks > Network mode you can set the Nexus 5 to 3G only. Or even the dreaded 2G and enjoy feeling like it's 2008 again.
Control Location Services and GPS
When your device fires up GPS for Google Maps and Navigation, or Facebook wants your location to share with the world, GPS will need to power on and is quite the battery hog. In Android 4.4 KitKat Google's finally changed this system, and will give users more control over how all aspects of location services uses GPS, and thus, the battery. Settings >Location > Mode and select Battery Saving.
If you want to be really extreme, flipping location services completely off will be a big saver when it comes to battery. Just don't expect Google Now to be as useful, give you directions, or find nearby restaurants and businesses. Facebook and Messenger apps won't share location, and Instagram or photo uploads won't have location data. In general leaving Location services enabled and on Battery Saving is ideal. As this uses mobile networks, towers, and WiFi access points to determine location, instead of the power hungry GPS chip inside your smartphone.
Data, Gmail, and Google Sync
Controlling what is automatically backed up, synced with Google, and otherwise transferring data is a big one. For obvious reasons you'll want to keep most of Google's sync settings enabled for Calendar, Contacts, Gmail, and other things, but if you don't need Gmail syncing and checking for emails every minute, change it. Gmail can be set to check whenever you'd like. From push, to 30 minutes, to never. Settings > Accounts > Google > and selecting account will show the sync options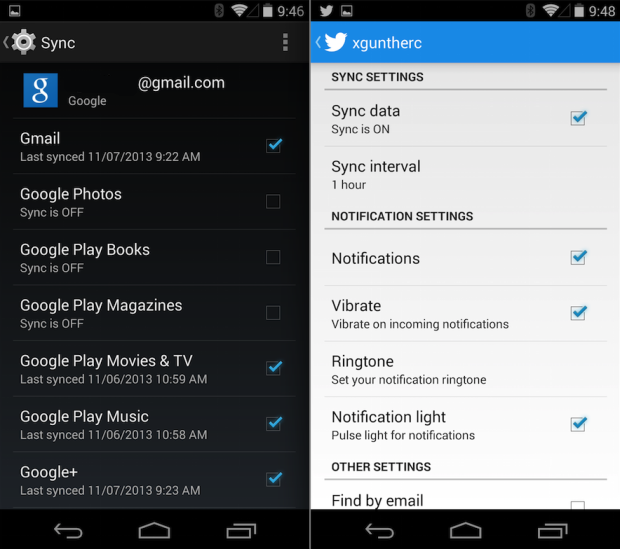 This is another area that makes Android powerful. Having Google sync everything from Music, Chrome browsing history, and even saving app data and settings. I'd keep this all enabled, but if you'd like to preserve battery here's another way to do so. Auto Backup of photos by Google +, DropBox, Google Drive, or any other service falls under the same category here. Either disable it, or have it set to only backup over WiFi, instead of mobile data. Google Photo Sync is a biggie, so use that with caution if you're snapping multiple photos per day of the family, or selfies.
Notifications
The image above also covers sync and notifications for apps. Everything from Gmail, Twitter, Facebook, and others all have notifications that could be draining the battery. If you're using 3rd party Twitter apps, elect to only have it update your feed every 30 minutes, or every hour. Not every 5 minutes as that will constantly wake your device, and slowly drain a battery throughout a workday.
The same rule applies here throughout the OS. Only have apps that sync or access mobile networks sync or notify users when over WiFi only, if that's an option. There's no need for the Google Play Store to automatically update all your apps while you're away from home relying on that battery. Select WiFi only, so it'll update apps when you're home. Alternatively disable this completely, as I do.
Other Quick Tips
Above we outlined a few of the quickest and easiest changes to actually make a noticeable difference on battery life, but you can always get apps like BetteryBatteryStats to follow what uses what, and help single out any battery draining issues. Then, here's a few other quick tips that aren't daily options, but can help.
Set Airplane mode if needed. This kills all radios and will seriously save a battery for days and days. On a flight or taking the train with no service, enable airplane mode to save it for when you arrive. Occasional restarts can also help to flush out the system and memory, and give your device a clean slate for the day or work week. Some might also suggest to opt not to use live wallpapers or widgets, but Android's so efficient those shouldn't cause battery drain. And they look pretty.
These are just a few of many different options available to users without getting deeper into the Android OS. Anything from custom ROMs and kernels can also severely impact battery life for better, or for worse. Enjoy the quick list, and your Nexus 5.

As an Amazon Associate I earn from qualifying purchases.