In the Plex Worth a Read To Understand Some of the Google Mojo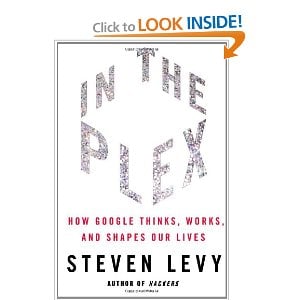 The Interwebs are full of bloggers and reporters divining what goes on inside the technology corporations, startups, and minds of those who run them. Occasionally we get a glimpse of what is really going on, but usually we're left to read between the lines. I just finished reading [amazon_link id="1416596585″ target="_blank" container="" container_class="" ]In the Plex[/amazon_link] by Steven Levy, and it is one of those books that provides some interesting insight into the workings at Google, as well as its founders Larry Page and Sergey Brin and some of the other Google personalities.
Levy spent quite a bit of time inside Google and appears to have had some excellent access in assembling this account. I think it's worth a read if you're interested in Google and how it got to where it is. But it also shows how much of an impact Google has had on just about everything in the tech world. There's info on Google's IPO, the early days before that, the internal and external battles with China and what that meant, and of course, there's info on the constant conflicts with Google's competitors, notably Apple and Microsoft. There's also fun stuff about the food and the other goings on around Google as well. Note that the book ends before the recent upper management shift that saw Larry Page take the reins as CEO. If nothing else the book provides some good context for where we are now, and if you manage a business, I think you'll be interested in how the Google way of managing things plays such a prominent role in most of the book. Given that Google is about to begin its big Google IO conference this week, it might offer some interesting insight to the announcements we'll be hearing.
All in all, I'd highly recommend the book. It's available for [amazon_link id="1416596585″ target="_blank" container="" container_class="" ]Amazon for $16.75 in dead tree format[/amazon_link] or [amazon_link id="B003UYUP6M" target="_blank" container="" container_class="" ]$12.99 in the Kindle Edition[/amazon_link]. I read all about Google with the Kindle Edition on an iPad, so I think I covered the bases.
(all links above are affiliate links)

As an Amazon Associate I earn from qualifying purchases.