In the U.S. and Interested in the Nokia Lumia 800? Here Are Some Spaces to Check Frequently
If you're in the U.S. and are interested in Nokia's debut Windows Phone 7 handset, the Nokia Lumia 800, which I had just recently reviewed, you may be disappointed to know that there isn't a way to get one yet Sateside without hopping a plane to Europe. Various importers are showing the smartphone as being available only for pre-order and Amazon's U.S. site doesn't have a listing for the device as of the time of this writing. At this point, there's speculation that due to high demand for the Lumia 800, unlocked versions of the phone may not be made available by Nokia until early 2012.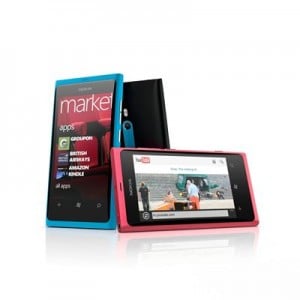 1. Carriers. First, if you're interested in Nokia's announced Windows Phone handsets–which includes the Lumia 800 and the more entry-level 710–you should wait until early 2012 and check Nokia's website and with your carriers. Nokia had announced that it is going to be working more closely with carriers for the U.S. market, even going as far as announcing that it would be abandoning its unlocked phone strategy. This is good news if you're looking to pay a subsidized price for a Lumia smartphone and don't mind signing a two-year contract; you can pick up a Lumia from a U.S. carrier starting in 2012. T-Mobile USA and AT&T are both speculated to pick up the Lumia in some form or another.
2. Import. Second, if you're really interested in importing the phone and don't mind paying a higher premium for a SIM-unlocked handset, you can look at importers, such as Expansys-USA and Clove.co.uk for the Lumia 800. Chances are, both retailers should begin getting unlocked inventory in by the end of the year, giving you a small window of time to showcase your geek coolness before Lumia smartphones start hitting carriers' portfolios Stateside, should you want to get one sooner than later. If you go this route, be prepared to pay a slight premium for the geek chic factor–Expansys is listing the pre-order price at $790.
3. Uncertainty. Third, if you're truly interested in the Nokia and Lumia brands in the U.S., it's still too early to tell what devices will actually land Stateside. Though Nokia has promised that its Lumia device(s) would arrive in the U.S., the Lumia-maker still has not announced which model(s) would make it here. For now, there are two announced models, but potentially a yet-to-be-announced Lumia could arrive in the U.S. as well.
4. Alternatives and Substitutes. Fourth, while I really like Nokia's design of the Lumia and the refreshing Windows Phone 7 Mango OS, you could get a comparable user experience on competing hardware from HTC, Samsung, or LG. HTC offers the more compact HTC Radar 4G in the U.S. on T-Mobile and AT&T is home to the 4.7-inch HTC Titan, the Super AMOLED Plus powered Samsung Focus S, and the more mid-range Focus Flash. The great news is that apart from the Nokia apps–Nokia Drive, Nokia Music, and Nokia Sports Hub–thanks to the non-fragmented nature of Windows Phone, your experience should be consistent from one device to the next. If you do need turn-by-turn GPS navigation with voice guidance and opt for a Windows Phone from Nokia's rival, you can replace the free Nokia Drive app exclusively for Lumia handsets with a third-party paid Navigon app that offers similar capabilities.
5. Check GBM for News. And fifth, check back to GottaBeMobile as we'll keep you posted on when the Lumia handset(s) begin invading U.S. soil.

This article may contain affiliate links. Click here for more details.