Incipio Carnaby Google Pixel XL Case Review
The Incipio Carnaby Esquire series Google Pixel XL case offers plenty of protection in a beautifully unique and simple design. Adding just enough size, weight and texture to be the perfect case. The goal is to offer plenty of protection without sacrificing style, and it does exactly that. This is our Incipio Carnaby Google Pixel case review.
Since being released in October the Google Pixel and Pixel XL have been popular Android smartphones. By offering the best in hardware and software for a complete experience. However, cases aren't easy to come by, which is why we've found a few excellent ones to review for owners.
Read: 15 Best Google Pixel Cases
The Pixel is made entirely out of metal and glass. It's a slippery phone. Those who want to add peace of mind and protection without sacrificing style and elegance, this is the case for you. It's made with an ultra-soft cotton finish. Need I say more? Read on for additional details, pictures, and what we do and don't like.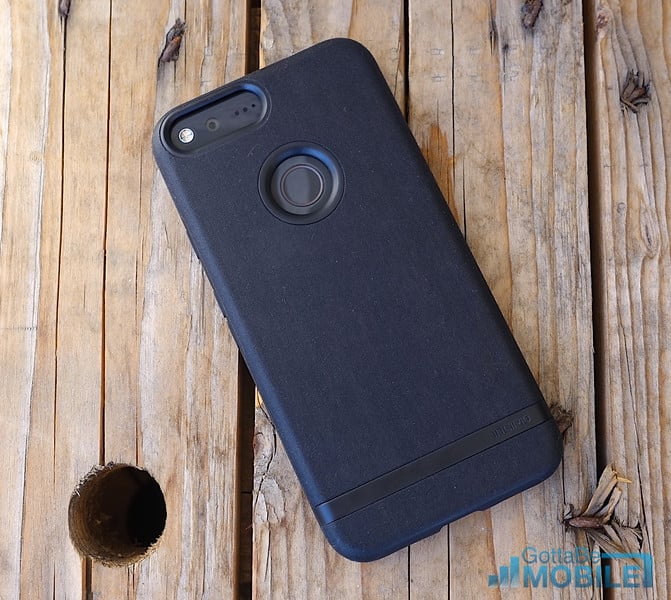 Incipio is a popular brand when it comes to cases or accessories for phones, and with good reason. They offer some of the best choices around. So when I saw they had their stunning Carnaby Esquire for the Google Pixel XL I had to buy one.
Pixel XL Case Design
Lately most cases are made of either a cheap TPU material or a hard polycarbonate shell, but Incipio brings something else to the table. What truly makes the Carnaby special is the fabric on the outside. As you can see from the photos this is no ordinary case.
Buyers will be happy to learn the company uses four different materials to complete the design. For starters, the Carnaby Esquire has a hard polymer shell for complete protection. Buttons are easy to tap due to the flexible TPU material used. Then there's a soft microfiber lining on the inside to keep your Pixel XL scratch free. To round out the design is an ultra-soft cotton finish. Yes, the outside is made of cotton. I chose Black but the Grey option looks like denim and many will love it.
As you can see from the photo above the inside is lined with a soft material to keep the phone safe. The edges neatly wrap around the sides just enough to protect the glass screen too, something we see from most high-end cases these days.
Feel & Use
Sliding the case in is easy and once it's in you're all set. The buttons are easy to find and press, have a nice tactile feel, and are better than some others I've used.
Of course being made by Incipio all the ports, buttons, and sensors are precision cut to work without any interference. However, I did notice it wasn't as snug as I expected, and maybe a little fine-tuning on the manufacturing line will make it even better. That's not to say it won't protect the Pixel, because it does, and very well. I've managed to drop my phone once while using the case and both came out without a single scratch.
Read: 10 Common Google Pixel Problems and Fixes
Finally, being an ultra soft cotton finish on the outside I was worried about it standing up to wear and tear. It has only been on the phone for a few days so I can't comment on that yet, but so far it seems extremely durable. It does have a nice texture to it, meaning you'll never accidentally drop your phone. That said, it does pickup little pieces of dust easier than some. That isn't a problem though, because the case looks so good. It's worth the tradeoff.
The design isn't too thick, and not too thin. We know many don't like a case because it adds bulk. The Incipio is a perfect middle ground in that regard. The extra spacing on the speaker down below is a welcomed addition too, which prevents me from covering the speaker like I do when I'm not using a case.
Final Thoughts
Overall this is a very well made and durable case from Incipio. It feels amazing, looks even better and keeps the phone safe. Even while laying face-down the screen will never touch a surface and get scratched. If there was one complaint, it would be the overly large and bordered cutout for the fingerprint scanner. This could be more sleek, and curve in to be more ergonomic. It didn't hinder the experience, but was noticeable enough to make note of it.
The Incipio Carnaby Esquire series for the Google Pixel and Pixel XL comes in Black, Grey and Olive Green. Buyers can find it listed as coming soon for $34.99. This is easily one of the best cases I've tried. While it might not be as cheap as some you'll find on eBay, it's worth it. You can't put a price on protection when it keeps the sophistication and style like the Carnaby.
In closing, this case feels as good as it looks and will keep the Pixel XL new for years to come. It's a case I'd recommend without hesitation. While you're here, take a look at our roundup of the best Google Pixel screen protectors too. Are you using a case on the Google Pixel? Let us know in the comment section below.

As an Amazon Associate I earn from qualifying purchases.