Infinity Blade 3 Arrives Ahead of iOS 7 Launch
The one game that Apple demoed during their iPhone event earlier this month is now available in the iTunes App Store. Infinity Blade 3, which is the third installment in the popular game series, is available now for $6.99. While Apple and Chair Entertainment demoed the game on the new iPhone 5s, it's actually compatible with the iPhone 4 and up, as well as the iPad 2 and up.
The game includes much of the same gameplay mechanics found in the original two titles, including tap-to-move controls, but it features a larger and more immersive world that has new quests and side missions that gamers can take advantage of. There are also three new game modes that offer co-op challenges.
While the game is "fully compatible" with iOS 7, it also works with iOS 6, but Chair Entertainment is pretty adamant about getting users to upgrade to iOS 7 in order to play game, saying that "it's highly recommended that you upgrade your device to the latest iOS version."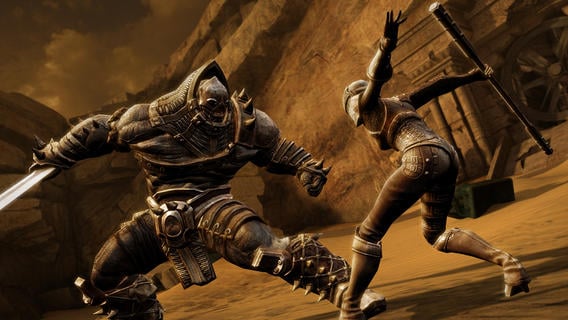 Infinity Blade 3 comes with two playable characters, named Siris and and "stealthy female warrior-thief" Isa. Each have three unique combat styles and hundreds of weapons and items to choose from.
The game takes up 1.4GB of space, so make sure you have room cleared out for it — just one of the many reasons to spring for the 64GB version when you plan to buy your iPhone 5s come Friday.
Infinity Blade has been Apple's game series of choice since the iPhone 4 was released, and it's used to demo and show off the latest iPhone's impressive processing power and graphics prowess, since the game is one of the most graphic-intensive available in the iTunes App Store. While it's only one of the few with such impressive looks, many new games are coming out that are taking full advantage of mobile graphics chips.
NOVA, Asphalt and Modern Combat are just some of the more-impressive game series that are pushing the boundaries of mobile gaming, and the graphics look almost as good as the consoles. While it's anyone's guess as to when mobile gaming will be just as good as consoles, it's safe to say that gaming on the go has become more popular than ever, and as chips get smaller and more powerful, we should be seeing more and more games release in the future that impede on console graphics big time.

This article may contain affiliate links. Click here for more details.