Initial Impressions of HP's Mini 1000 Mi Edition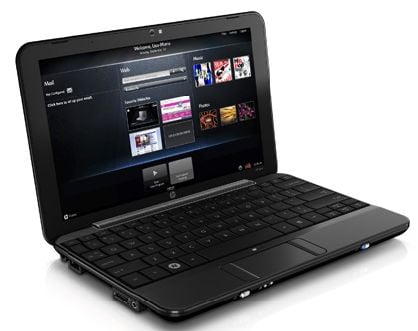 I've been spending more time with HP's Mini 1000 Mi Edition since yesterday and will offer up some video in the next day or so to go over the Mi Edition and explain in more detail some of the issues I'm experiencing. Until then, here are some initial impressions:
Resume from Standby is pretty quick for me – about 5 or seconds and then I'm browsing the web, im'ing through Pidgin
I can't update Firefox to 3.0.6 – the Check For Updates option is grayed out. Any updates have to come through HP's Software Updater utility. I downloaded the latest version through GetFirefox.com, but getting that installed requires a bunch cmd line syntax – consumers won't do it and I won't either.
It isn't as quick to load and navigate as I had thought a Linux OS would be. My initial impression is that Windows 7 was a tad quicker than this custom implementation of Ubuntu. The OS generally feels laggier than I thought it would.
Unlike the Hardy build of Ubuntu, my Novatel USB727 wireless modem is not plug and play with the Mi Edition – again requires a bunch of hacking and cmd line sytax to get it working. Consumer won't do it, I won't either. For this to be a true mobile device, reliance upon just WiFi isn't going to cut it. When I'm mobile, I'm hardly ever on WiFi – my USB mobem is my lifeline to the internet.
Battery life is about 2.5 hours, which is roughly what I was getting on Windows 7. I don't know why, but I was expecting more.
I wish I had more customization over the home screen.
I can't quite put my finger on it, but there is a lack of polish that seems to be missing from the overall experience. For example, on the home screen, it lists the most recent five emails received. When I click on one of those emails, I'm expecting to be taken to that email in Thunderbird. However, all it does is display Thunderbird and I still have to go find that email and click it again to read it. Photos and Music have the same problem. When I click on a photo to view it, I'm taken to another screen where I have to click "View Photo" to actually see it – one too many clicks and screen refreshes. Show me the photo when I click on it, ok?
Connecting to the my WiFi was quick and painless – no issues at all.
Search defaults to Yahoo from the home screen, and for the life of me I can't figure out how to change ( of if the Mi implementation of Firefox will allow me to) the default search engine to Google
I love the Mini 1000 and think it is one of the nicest netbooks on the market, but I have not found a scenario yet where I would recommend the Mi Edition over say the Windows XP version or the beta version of Windows 7.   With installation of programs and the USB modem issue and general lag, my hands are feeling more handcuffed than free. However, it has only been one day and I'm not giving up. I still plan on giving Mi Edition a fair shake, but so far I'm not overly impressed with the mobile experience in the Mi Edition.   We'll see how long I go before putting Windows 7 back on.

As an Amazon Associate I earn from qualifying purchases.