Ink Fight: Differences Between Active Digitizer and Passive Touch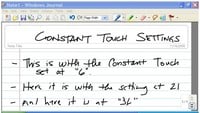 Twisted Logic. Actually that's the name of the blog where Mike started a discussion about the differences between inking on an active digitizer and a passive touch screen. Yes, there are differences and he covers them in a comparison between the Lenovo Thinkpad X41 and the Samsung Q1. Kevin Tofel of jkOnTheRun picked up the conversation and reminds us about the Samsung Q1's touch utility called "Constant Touch" which really hasn't been publicized all that much. (I've not had any hands on experience with this but it looks like a very interesting solution to some of the touch issues.) If you want to see another interesting visual comparison between touch and the stylus make sure you check out Dennis Rice's Inkshow demonstration of the multi-touch screen on the new Lenovo Thinkpad X60 Tablet PC.

As an Amazon Associate I earn from qualifying purchases.