Inker the TIP Replacement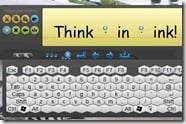 I don't have my Tablet PC with me today to check this out right now, but Inker looks like a great way to enhance the TIP.   Make sure and watch the video of the replacement TIP on their site.  It's looks very useful, especially when inputting text in the console window.  Report back on your thoughts! Also of note – The beta version will say it's thru Dec 1st – but don't fret over that short eval time – they will release a newer beta before that date.  Below are a few differences from the original TIP, visit the Inker home page for a full list and description of each item.
Text Tap Activation – No need to hunt around for the TIP icon that appears in random places, simply tap the text field with a pen and Inker activates. This functionality works in most applications, but for those that it does not, simply tap the Inker icon in the system tray.
Text Corrections – Need to correct existing text? Just select it with the pen when Inker is empty and it will load the text and allow you to correct it. (Note, current build has an issue which this does not always work in Office, we are working on a fix)
No Tabbing – Handwriting and corrections are performed in a single place and handwriting is replaced while you write with recognized text. No need to move around through different modes or screens.
Improved Recognition – Inker is more accurate than TIP. While it uses the same recognition engine, Inker does more analysis of the input and uses this information to better choose when the recognition results return many candidates..
And More – check out the full list!