InkShow: MobileDemand xTablet T7000 Keeps Pace with Red Bull Racing
As we reported last month, MobileDemand is an official sponsor of the Red Bull Racing Team. The NASCAR team runs two cars and is using MobileDemand xTablet T7000′s to work more efficiently and to improve communication. I visited the Red Bull Racing team at its shop in North Carolina and as it prepped for a race north of San Francisco. I put together a series of videos that show how the team uses tablets and a ton of other technology.
I've always been a car guy, though I haven't followed NASCAR closely over the years. After spending some time with the Red Bull Racing team I have a whole new respect for the sport. The coordination, preparation and technology I observed during my visits was truly incredible.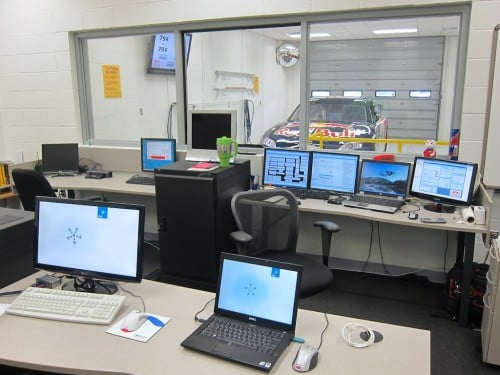 NASCAR racing has changed a lot over the years, but one thing that really surprised me was that there seemed to be more geeks at the race tracks than mechanics. Guys like Jacob in the video above are responsible for setting up devices, maintaining networks and finding the most efficient ways to communicate in challenging environments. The team's data acquisition geek is responsible for organizing information during practice and on race day. Red Bull Racing's 7 post facility looks like a mission control center. It was filled with HP workstations and a few other devices that are responsible for testing cars' suspensions components.
The Red Bull Racing team has a custom application that allows them to gather information in real-time, view data gathered by NASCAR's official timers and officials, share notes and view historical data. The tablets are wirelessly hooked into the team's haulers (18-wheel tractor/trailers that act as mobile team headquarters), which are connected to the team's shop in North Carolina via a satellite uplink.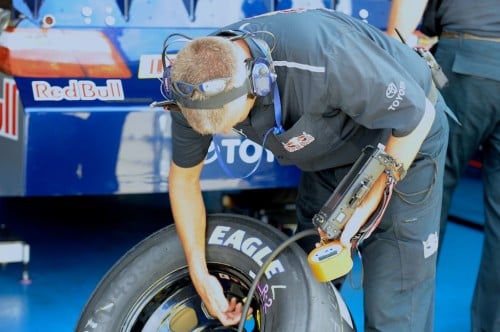 I was pleasantly surprised to find that NASCAR garages are Tablet PC havens. Several teams besides Red Bull Racing use Talbet PCs, with Motion Computing slates and Lenovo ThinkPad convertibles being the most common. Larger tablets have some advantages over the xTablet T7000, but the more mobile tablet seemed a better fit for the crew members who had to work with their hands or use them for hours on end. Red Bull Racing uses a variety of tablets and I wouldn't be surprised if other NASCAR teams start using the xTablet T7000 in addition to their current crop of talbets.
Mike Motil is a tire specialist and is very enthusiastic about using his xTablet T7000 on a daily basis. Every tire that comes in the door has to be cataloged. Mike enters some of this data by hand using the numeric keypad and other bits of it with the included barcode scanner. He's also responsible for logging information such as tire wear, track temperatures and tire temperatures.
Switching from pencil and paper to a Tablet PC has made Mike's life a lot easier. Before he started using the tablet he had to write down critical information on a pad of paper and distribute carbon copies to teammates. Using the tablet saves Mike between 60 and 90 minutes each day spent at a raceway.
At a recent race at Dover Speedway the xTablet T7000 helped Mike and his team calculate the maximize number of laps the car could run on a set of tires. The timely information helped avoid a tire blowout and prevent a possible collision. "If it'd been another lap or two we would have been in the wall, like several other cars were," Motil said.
Everyone's in a hurry at the race track and sometimes the tablets are left in precarious situations. It was pretty hot in Charlotte the weekend of the Coca-Cola 600 and I noticed Mike Motil left his tablet out in the sun. According to a laser thermometer normally used to measure tires, the surface temperature was 136.5 degrees. Motil told me that he left the xTablet T7000 out in a downpour a couple of weekends ago and it functioned just fine. He now has a lot of confidence in this piece of equipment and finds it more durable than some of his other gear, such as his tire pressure gauge.
Another Red Bull Racing team member that really seems to enjoy using a tablet is Mike Metcalf, car 82's Gas Man. The race cars don't have gas gauges and many races have been lost when they run out of fuel in the final laps of a race. Metcalf is responsible for filling up the car's fuel cell in 12 seconds or less during pit stops. He's also responsible for accurately recording how much fuel the car uses throughout the race and communicating pertinent data to the rest of the crew. Before getting his Tablet PC, Metcalf used a dry erase board to jot down information after pit stops, pass it to other crew members and wait for them to transcribe data onto their systems.
Mike Metcalf mentioned that he was careful with his tablet, despite being told that it could take a beating. MobileDemand CEO Matt Miller (a GottaBeMobile sponsor) decided to give him a quick demo of what the xTablet T7000 can handle.
The Red Bull Racing team's spotters also carry xTablet T700s to help guide their drivers around the track at up to 200 mph. Before getting the tablets, the spotters relied on NASCAR Fanview devices, which are typically used by fans.
The xTablet T7000 is a relatively expensive device and it's definitely not designed for everyone. But I think the Red Bull Racing team's proven that it's the right tool for the job. If it can take a NASCAR team's abuse and keep ticking, I'm sure it can survive in just about any auto repair or body shop.

As an Amazon Associate I earn from qualifying purchases.