Innocent Man Accused of Child Pornography Because Neighbor Stole His Unsecured WiFi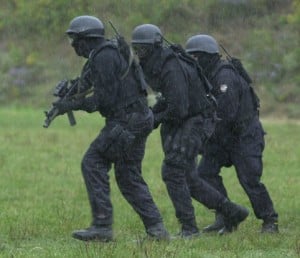 Quite a story here on several levels. First, I'm always amazed to read that folks don't secure their WiFi connections with a password. Second, the ramifications of that obviously came crashing down on this poor fellow in a rather ugly way.
Fed up with trying to secure his home WiFi network, the guy in question left his network unsecured. Then one morning he was surprised to find the authorities busting into his house in full SWAT mode, tossing him down his stairs, and accusing him of downloading child pornography. After the trauma of the arrest was over and an investigation ensued, the man was obviously not charged and apologies were issued.
If you read the story on the Huffington Post you'll see that leaving your WiFi unsecured can lead to some pretty serious stuff, given how, unfortunately, the world contains folks who will take advantage of any situation.
Given that dual band routers are now becoming more prevalent and some allow you to set up a Guest account. That frees  you from having to turn over your password to your cousins when they come to visit. I've been to at least two friends' homes where this is the case and neither had secured the Guest account. You might think it is a charitable or neighborly thing to do to leave open a WiFi access point, but you do need to be careful out there.

As an Amazon Associate I earn from qualifying purchases.