Insane iPad Pro Deal Offers $200 Off
A new iPad Pro deal chops $200 off the price of the iPad Pro just months after the release, offering a great way for users to upgrade from a smaller iPad to the largest iPad that Apple offers.
To score this insane iPad Pro deal you will need an iPad to trade in, but if you are looking into the 12.9-inch iPad Pro this soon after Apple started selling it, you likely have an iPad Air or iPad Air 2 that you use.
This is what you need to know about a new iPad Pro deal that promises $200 off the iPad Pro when you trade in your old iPad.
Through January 23rd Best Buy sells the iPad Pro for $599 when you trade in an iPad Air or iPad Air 2 at the time of purchase. The deal requires the trade of a working iPad Air or iPad Air 2.
There is no option for older iPads or any iPad mini. Best Buy limits this to one trade in per person, with no rain checks. The trade must be in working order and you are responsible to remove your data. You will pay tax on the full $799 price of the iPad Pro. Additionally this is only available for the iPad Pro 32GB WiFi model and only available in store.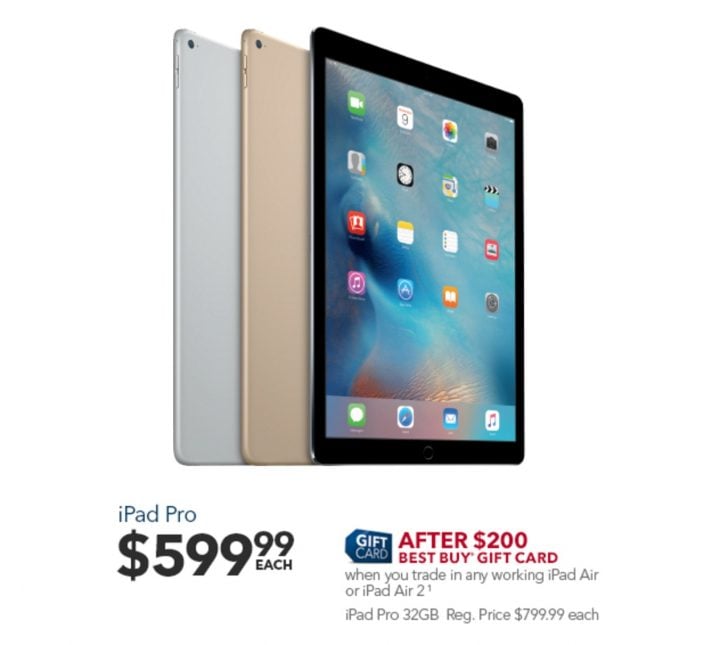 This is only a great deal for the older iPad Air, as you can sell the iPad Air 2 for more than $200 at Gazelle and other services. Best Buy currently values a 16GB iPad Air 2 WiFi at $174 while Gazelle offers $210 for an iPad Air 2 in good condition and $225 for a flawless trade.
The iPad Pro is available with 32GB of storage and also with 128GB of storage and there is an LTE option, but none of these are available with this deal. 32GB is a better amount of storage than the base iPhone, but this may not be enough for users that want carry a lot of content on the iPad Pro at all times.
For more on this device, check out how the iPad Pro changed the way one of the Gotta Be Mobile team works. After using the iPad Pro for several weeks, and trying to fit it into a typing heavy use-case we learned that the iPad Pro is not for everyone. Check out why Gotta Be Mobile editor Josh Smith returned the iPad Pro.