Inside Out Thought Bubbles: 5 Things You Need to Know
The new Disney Pixar movie Inside Out is fun for the whole family and the new Inside Out Thought Bubbles game is fun for kids of all ages, and bored adults who want to relive an arcade style game from their childhood. Here's what you need to know about the Inside Out Thought Bubbles game.
Inside Out Thought Bubbles is a free to play game that delivers Bust-A-Move style gameplay inside an Inside Out world with characters and goals that expand on the movie. Different color bubbles match up with different emotions that users need to manage and match to complete levels.
Use this as a fast guide for parents to read before playing Inside Out Thought Bubbles or to help guide players to the right path to win.
What is Inside Out Thought Bubbles?
The Inside Out Thought Bubbles game takes place inside Riley's head where players can work through 125 levels inside Riley's mind with the help of different emotions and special power ups.
Players must match the thought bubbles that they fling onto the board with those already above the playing field. There are power-ups to help players get past really tough areas. At the simplest this is a matching game playable by kids of all ages, but there is some strategy needed for tougher levels.
The Inside Out Thought Bubbles game is available on iPhone, iPad, Android, Windows, Windows Phone and Amazon Fire.
Inside Out Thought Bubbles Rating
The Inside Out Thought Bubbles game is rated 4+ by Apple and Everyone by Google Play. This means the game contains no objectionable material per Apple's guidelines. The Everyone rating on Google Play means, "Content is generally suitable for all ages. May contain minimal cartoon, fantasy or mild violence and/or infrequent use of mild language."
We have yet to see any major complaints from parents or users about the appropriateness of content in the game.
Inside Out Thought Bubbles Ads & Social Networks
There are ads in the Inside Out Thought Bubbles game, which is an aspect that some parents will want to know about. Here's a primer on what is included in the game, so parents can decide if the options are OK, and how kids should handle ads and connectivity options. Disney Pixar advises,
social media links to connect with others
the option to accept push notifications to let you know when we have exciting updates like new content
links to online stores to purchase real products
registration to create or sign in using a Disney/an existing account
advertising for some third parties
as well as advertising for The Walt Disney Family of Companies
It is not surprising to see ads inside games or options to buy items, but parents need to make sure kids know how to treat these options.
Inside Out Thought Bubbles In App Purchases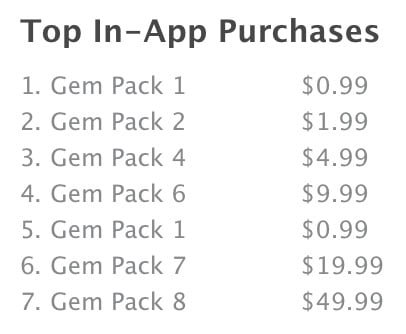 Like most free to play games, there are Inside Out Thought Bubbles in app purchases that players can buy to get past harder levels and to unlock power ups. The purchases range from 99 cents up to $49.99 for a Gem Pack that delivers help to beat levels.
The option to spend nearly $50 in-game is a reason that parents should control n-app purchases with Family Sharing or discuss these options with their children.
After playing through the easy levels, many gamers may feel the need to buy a gem pack to get past a particularly tough level. iTunes user cornn1p writes,
"Addictive game but like a few others said before once you reach a certain level it's impossible to win without spending money to buy gems. Maybe add a way to earn gems like other games do by viewing advertisements, etc. it's just extremely frustrating to be stuck on the same level forever and have no way to beat it. Eventually this app will end up deleted just like the other games that make it impossible to play without spending lots of money."
This is a fairly common complaint in free to play games.
Inside Out Thought Bubbles Power-ups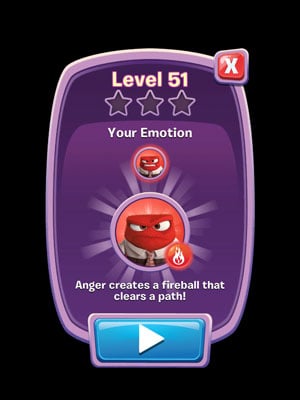 To complete some harder levels gamers will need to use Inside Out Thought Bubbles Power-ups and powers. Each of the emotions has a power that they can use, and there are three other paid power ups that gamers can buy using gems, which the user must buy with real money.
Joy Power-up – Use this to clear any orbs of a color in a burst once charged up.
Sadness Power-up – Unlock at level 15 to turn all orbs in a line blue and knock off orbs below them.
Anger Power-up – Unlock at Level 51 to shoot a fireball through orbs in a straight line.
Line Power – 5 Gems Unlocked at Level 8 – Use this to extend your aiming line.
Rainbow Memory – 5 Gems Unlocked at Level 13 – Match all colors this orb hits.
Extra Choices – 5 Gems Unlocked at Level 19 – Adds tow more orbs to your launcher.
As you play through the four types of Inside Out Thought Bubbles levels, you'll need to learn which of these power-ups work best in specific situations.
[ubergrid id=300234]