Inspirational New NBA 2K16 Tells Stephen Curry's Story
A new NBA 2K16 focus on Golden State Warrior's Stephen Curry sets the tone for the refresh My Career Mode headed by film writer and director Spike Lee.
Publisher 2K Games and video game developer Visual Concepts revealed the new NBA 2K16 trailer earlier today. In addition to grounding the new My Career story in Curry's own history with basketball, the trailer also provides users with quick looks at Curry's in-game likeness.
Career Mode lets players create a player and follow him through his journey with the NBA. NBA 2K16 has a completely refreshed My Career mode headed by Spike Lee. Lee wrote and directed footage for My Career, reportedly putting his own spin on it in the same way that new DJs were asked to create different playlists. Lee narrates this new trailer.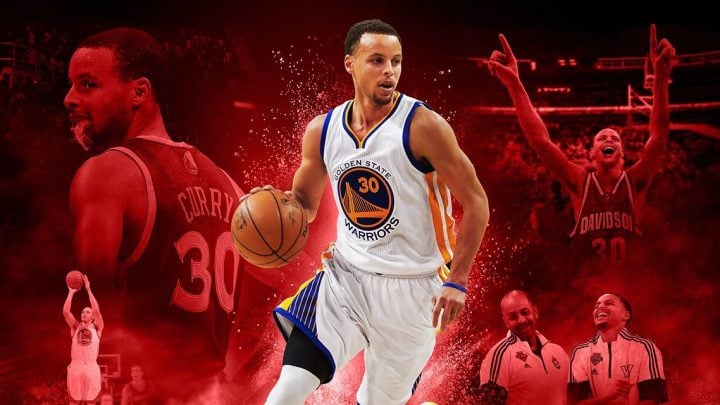 The new NBA 2K16 trailer starts with Stephen Curry standing alone on an asphalt basketball court holding a basketball in his hand. In front of him is the long shadow of a hoop. This trailer's theme is going "Beyond The Shadows" or what roughly equates to defying expectations. Scattered through the one minute and sixteen second trailer are clips of Curry playing basketball as a kid, from home courts to a high school gymnasium. The first half of the trailer is pretty light-hearted and meant to get players excited for their own journeys through My Career.
https://youtu.be/1iSqziKeJ9A
The tone of the trailer turns more serious with clips depicting Curry's struggles to make it in the league. One announcer boldly predicts that Curry won't become a serious point guard in the NBA because of his height. The next few scenes show Curry's in-game character's ball handling and offensive skills. The trailer starts switching between real-world Curry and NBA 2K16 Curry before it Spike Lee appears. Lee, in his signature, iconic glasses, and asks viewers what will their story be? As he says that in-game Curry flashes on the screen again. NBA 2K16's tagline, "Be The Story," closes out the trailer. Lee invites users to "star in a Spike Lee Joint." That's the tagline that Lee uses to denote his projects. Here it's a nod to Lee being responsible for My Career Mode.
The NBA 2K16 release date is set for September 29th, but users who pre-order the game get to participate in Early Tip Off Weekend. The promotion starts on September 25th. Players also get some in-game currency to spend on their character in My Career Mode.
Leaks from Microsoft's Xbox Live service indicate that My Career won't act as the only reason to purchase NBA 2K16. Custom Teams are making their triumphant return with this title, letting users modify everything from their team's roster to their official court design and jersey logo. A giant arena lets online players watch other teams play in real-time. 2K Game calls this mode Pro-Am and the whole point is that players can jump into games with their squad without egregious loading times.
Read: NBA 2K16 Pro-AM Mode Revealed
2K Games has taken no end of criticism for taking out custom team creation unceremoniously. The feature was in the franchise for years before being removed.
Read: Which Edition of NBA 2K16 Should You Buy?
A basic copy of NBA 2K16 will cost $60 when it arrives on store shelves and digital retailers next month. There is also a version of the game that includes Michael Jordan-related digital upgrades for a bit more. James Harden and Anthony Davis are each getting NBA 2K16 covers of their own. Theoretically, they'll get their own NBA 2K16 trailer too ahead of release.