Instagram for Windows Phone Officially Announced
After years of waiting and six months after Nokia launched a grass-roots effort to get the app in the Windows Store, Nokia and Microsoft have formally announced that Instagram for Windows Phone is coming.
Nokia revealed that the application was on its way to users, this morning at an event in Abu Dhabi. It choose that event to also announce the Nokia Lumia 1520, the world's largest and one of the most powerful Windows Phones ever sold.
Windows Phone users shouldn't head to the Windows Phone Store to download Instagram for Windows Phone just yet, Nokia and Microsoft are both indicating that Instagram will launch "in the coming weeks."
It's been a long road for Windows Phone users who wanted Instagram. Rumors that the application was on its way to Windows Phone surfaced multiple times throughout the spring and summer. While none of those rumors came true, independent Windows Phone developers took it upon themselves to fill the gap. Developer Rudy Huyn's 6tag functions just as well as any official Instagram application on other platform.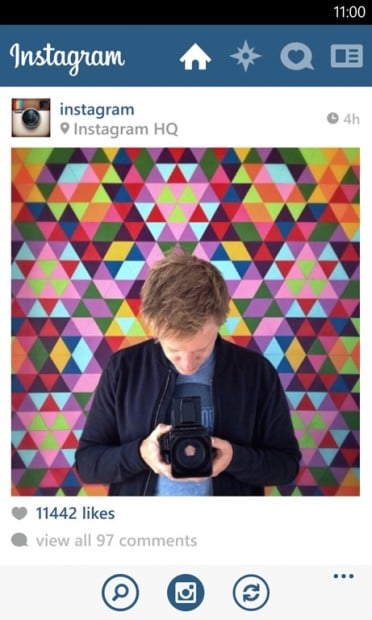 Instagram allows users to easily view, capture and share photos and videos with other users.
Microsoft took the opportunity to also detail a slate of applications users can expect over the next few months. They include ESPN F1 for Formula One racing fans, a merger of Nokia's Pro Camera and Smart Camera apps called Nokia Camera and an official version of the Vine video sharing application. High profile games include Asphalt 8: Airborne, Temple Run 2 and a mobile version of FIFA 14.
Like Instagram, Microsoft isn't revealing when any of these apps and games will make it to the Windows Phone Store. Instead its blog post lists them and many of the other titles Microsoft is showcasing as "coming soon."
With the arrival of Instagram, Microsoft has finally snagged one of the few key applications missing from the Windows Phone Store. That being said, it still won't magically fix the public's perception of Windows Phone not having enough applications to be considered an alternative to iOS and Android. To do that, Microsoft will need to focus on providing developers with enough incentives and platform advantages to develop applications for Windows Phone at the same time as they do for other platforms.

This article may contain affiliate links. Click here for more details.