Intel and Asus Want Your Advice to Build a WePC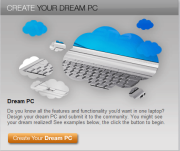 Intel and Asus are teaming up and asking for your advice on what you'd like to see in a "community designed" PC. The WePC site allows you to submit your ideas and the two companies hope to deliver some devices with your (and everyone else's) idea as a part of the plan. Submit your own ideas, or follow the crowd and vote on the ideas submitted by others. There are three categories that you can work within: Netbooks, Notebooks, and Gaming PCs. And as if it wasn't enough to be a part of the process, at some point in the game, there will be prizes.
Via Engadget.

As an Amazon Associate I earn from qualifying purchases.