Intel and Motion Computing to demo Mobile Clinical Assistant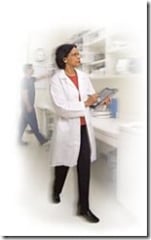 As a follow-up to Motion Computing's press release today, we are learning from cnet.com's Tom Krazit that on February 20th, Motion Computing and Intel plan to demonstrate the Mobile Clinical Assistant that was announced at Intel's Developer conference last year. The demo will be held at the University of California at San Francisco Medical Center. Motion CEO Scott Eckert will be joined by Intel CEO Paul Otellini, along with Mark Laret, of San Franciso Hospital.
If anyone is in that area and is planning on attending event, we'd love some pictures / video!
Remember, there is a Motion partner briefing happening on the 20th as well, but no public announcements on that date. So, while I expect the clinical assistant to be part of what Motion will be announcing officially in the coming week(s), I'd expect something more in the form of product announcements. However, I've been known to be wrong on a number of occassions :-)

As an Amazon Associate I earn from qualifying purchases.