Intel Atom CPU Edges Early Victory Over Samsung Galaxy S4 in Benchmarks
In an early benchmark test, the Lenovo IdeaPhone K900 is boasting an early victory over the highly coveted Samsung Galaxy S4 smartphoone, with the former using a dual-core Intel Atom Clover Trail+ processor and the latter powered by an ARM CPU. It's unclear if the Galaxy S4 being tested is one that's using Samsung's Exynos 5 Octa chipset or a variant made for LTE networks in the U.S. and UK bearing Qualcomm's Snapdragon 600 quad-core CPU.
According to GSM Arena, "The benchmark test of the Lenovo K900 reveals that the smartphone is a touch ahead of Samsung Galaxy S4 and the K900 is surely one of the fastest smartphone in the current market."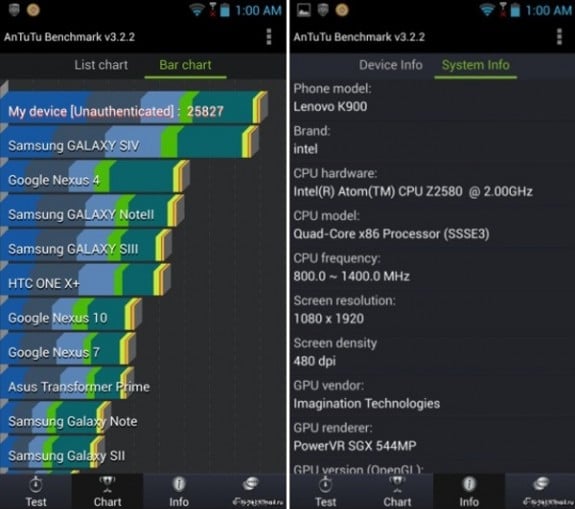 With the Galaxy S4 previously declared as the fastest Android phone yet, this is a significant victory and milestone for Intel, which is trying to still make headway into the mobile space that's largely dominated by processors built around ARM Holdings' designs.
The early victory against ARM's next generation of processors is a solid early victory for Intel as it is using a dual-core CPU design to combat ARM's quad-core designs. The Exynos 5 has 4 power cores and 4 more conservative cores–at any given time, depending on the workload, either the power cores or the conservative cores would be fired, so despite having 8 total cores as part of the ARM big.LITTLE architecture, the Exynos 5 Octa is actually a quad-core architecture that's designed around performance and battery optimization. Qualcomm's Snapdragon 600 is a quad-core CPU that's an update to the current Snapdragon S4 Pro processors.
The dual-core Intel Atom CPU inside the IdeaPhone K900 is clocked at 2 GHz. The phone was shown earlier this year at the Consumer Electronics Show in Las Vegas whereas the Samsung Galaxy S4 was more recently unveiled at an event last month in New York.