Intel Classmate Tablet Slated For January 2009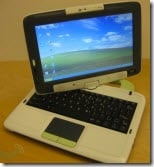 CTL's Classmate convertible tablet PC is scheduled for a early 2009 release at a price point south of $500. The CTL 2go is Intel's second generation Classmate device that seems to have more in common with a netbook than a tablet PC, although it does have tablet functionality. Engadget has coined it the "netvertible," but I think a "tabnet PC" might work a little better.
The specs are what you'd find in any of today's netbooks: Intel 1.6GHz Atom processor, 60GB HDD, 1GB RAM, and WIndows XP OS. At a selling point of only $500, I am almost positive the 8.9" touch-screen is of the passive variety with an accelerometer controlling screen orientation.
Via Engadget

As an Amazon Associate I earn from qualifying purchases.