Intel Developer Forum 2010 Day Zero
I spent yesterday afternoon at IDF 2010's Day 0 event in San Francisco. A couple of researchers from Intel gave presentations and there were a few tech demos on hand. As always, the best part of the conference so far has been catching up with other tech writers that we interact with on nearly a daily basis, but rarely see in the flesh.
Focus on Simplicity
Genevieve Bell, an anthropologist and Intel researcher spoke about how she is trying to get Intel to think simple instead of complex. She and her team travel the world watching how people use technology in public and at home.
She pointed out that she'd never been in a home where there wasn't a fight over the TV remote or power outlets, both seemingly simple objects. But they are both things that mean a lot to consumers. She siad that she's very interested in learning why people love the things they have, including the TV. One thing people love about TV is that it's drop-dead simple to operate and maintain.
"We put up with things on our PCs that we'd never put up with on our TVs," Bell said.
This is a photo from instructions in a London hotel room with instructions on how to operate the shower. The instructions are obviously too complex, but similar to what's found on most tech products.
Another researcher correctly pointed out that a lot of researchers and developers build hammers without thinking about the nails. Instead of building technology for technology's sake, he hopes people focus more on solving real-world problems.
Human Interaction
The researchers talked quite a bit about how humans interact with technology and I'm sure we're going to hear a lot more about that over the next few days. The best thing about tech conferences in my opinion is getting to meet and hang out with humans that we usually interact with via Skype, Twitter email and blog comments.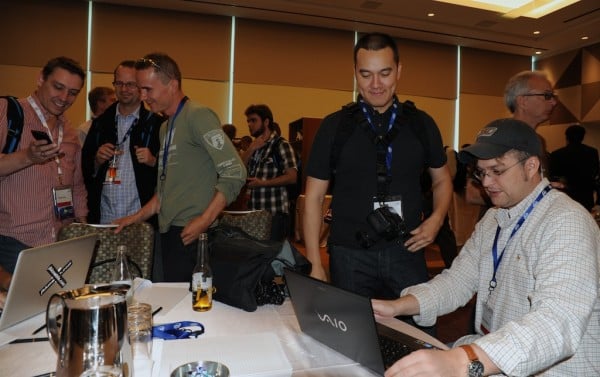 Here's a snapshot of the mobile tech geek table. From left to right is  Steve 'Chippy' Paine of UMPCPortal.com, Michael Hulskotter it-techblog.de, JKK of jkkmobile.com, Hubert Nguyen of UberGizmo and Sascha Pallenberg of NetbookNews.com.
I'll be at IDF 2010 all week and hope to hunt down some interesting products and concepts.

As an Amazon Associate I earn from qualifying purchases.