Intel Devlopers Forum News Stirs The UMPC Pot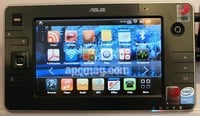 It is almost too dizzying to sort out at this point. But Intel has changed the landscape of mobile device land with their announcements at the Intel Developers Forum. There is a move towards Linux based systems. Intel is talking about chip evolution two or three steps down the road. With words in a press release that state "Today's environment is primed for a truly personal, mobile Internet experience and the Intel Ultra Mobile platform 2007 combines the flexibility of a PC with the mobility of a handheld device," combined with further announcements that point to advancements happening in 2008, 2009, 2010, you can see where questions arise.
Suffice it to say, terms like MID, Silverthorne, Poulsbo, Redflag, and Menlow are going to be getting a lot of play as this all begins to sort out, and I'm sure we'll all know the subtle differences between the A100 and the A110 processors very soon. Asus, Fujitsu, Aigo, Haier, HTC, and Samsung all appear to be players in the game with devices in the works. But all of this raises some interesting questions as we forge ahead.
It's great news that we are looking at chip architecture that operating at lower wattages and offering different operating systems. No one's gonna complain about that. But this does appear to be a departure from the previous UMPC focus based on Microsoft's spec. Is that a real move, or is it an additional platform? Is mobile device convergence being driven by or through the continual beefing up of mobile phones? Or is it media? Does the advent of the iPhone have anything to do with this. (Those icons sure do look awfully familiar? What kind of broadband options are we going to see in the US? Isn't announcing a 2007 platform in April of 2007 heralding that we need to keep our sights focused a bit further down the road?
If you ask me, the waters just got muddier and not clearer for those trying to read the tea leaves and mix metaphors. But it sure will be fun trying to sort all of this out.
Here's a rundown of some coverage to check out:

As an Amazon Associate I earn from qualifying purchases.