Intel Gives MeeGo Tablet UI a Facelift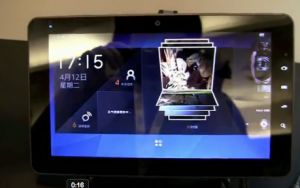 At the Intel Developer Forum, a reference hardware tablet running the MeeGo operating system, which was originally intended as a joint effort between Nokia and Intel until the former pulled out in favor of Windows Phone 7. In China, as part of the Intel Developer Forum, Intel and partner Tencents are looking to position MeeGo as an open alternative to Android. Despite the growing popularity of Android, the platform is generating mixed sentiments with users in China because of a battle between the Chinese government and Google, prompting Google to pull its apps and Android Market out of Android handsets in China.
The latest tablet efforts reveal a slim 10 mm thich 10.1-inch tablet with an Intel Oak Trail CPU, 1 GB RAM, SSD, accelerometer, camera with dedicated shutter button, and WiFi.
The interesting thing is that Intel had revamped the MeeGo UI on tablets. Rather than creating columns for different sylos of information, the UI is organized in what appears to be a more organic way.
Here's a video, taken from Netbook News of the new UI:
Here's a look at the old UI:

As an Amazon Associate I earn from qualifying purchases.