Intel Studybook Tablet is Ready for Class
The Intel Studybook tablet is a new 7-inch rugged Android tablet designed to meet the needs of students and educators.
The Studybook has a 7-inch multi-touch display, front and rear cameras, light sensor support and comes bundled with software and support for LabCam applications.
An Intel Atom Z650 processor powers the small tablet which can also run Windows, though Kapil Wadhera, general manager of Intel's Education Market Platform Group tells GottaBeMobile that Android is the more popular choice.
The Intel Studybook has a plastic unibody frame with multiple shock absorbers built-in to protect the screen during use, transportation and at play. Intel designed the tablet to handle drops from a student desk and made it water and dust-resistant. It's safe to say that students can take the Studybook wherever they go without worrying about breakage.
The Studybook costs $200 and runs Android 3.0. Watch the hands on video from Laptop Mag to learn more about the software on the Studybook.
The Intel Learning Series draws from ethnographic studies and combines hardware and software elements tested in over 2,000 classrooms to deliver an efficient educational tool. More than 7 million students worldwide already use Classmate PCs to foster education and 1:1 e-learning
The Intel Learning Series is about bringing technology to students not for the sake of moving more notebooks and tablets, but for fostering the growth of knowledge around the world. By providing the tools that students need to explore, question and learn, the program provides the tools students need to compete as knowledge workers in a global economy.
Intel explains the purpose of the Learning Series, and what goes into the creation of a new product in the video below.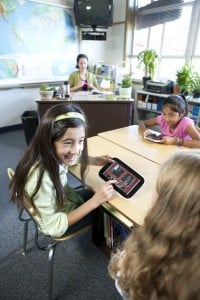 The Studybook you see above is a reference design, which Intel shares with partners to bring the tablet into classrooms across the globe.
This model allows the local manufacturers and designers to incorporate and change the design to fit their local needs, so a Studybook in India will look or work slightly different from one in China or Argentina.
Because the local markets play a huge roll in designing and bringing the Studybook, and Classmate PCs, to market, there is also a boost to the local economies.
The Studybook software is as important as the hardware, and Intel provides LabCam applications to foster scientific exploration in the classroom. These touch optimized scientific tools promote scientific enquiry.
Students will also find an optimized e-Reader and collaboration software that allows students and a teacher to collaborate via the tablet and a Teacher Classmate PC.
Intel also released criteria for the Intel Learning Series Teacher PC, a collection of must have features for notebooks and Ultrabooks used by teachers in these connected classrooms.