Intel targets tablets with tiny 310 Series SSDs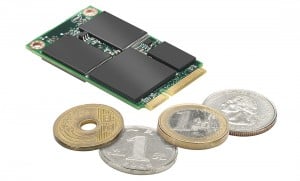 In a press release yesterday, Intel announced their new 310 Series of Solid-State Drives (SSD), which they claim offer all the performance of their X-25 drives but in 1/8th the size. They're promoting them as performance boosters for dual-drive notebooks, ideal storage drives for tablets, and unshakable data bunkers in rugged computers.
The new drives measure only 51 mm x 30 mm x 5 mm with capacities of 40 and 80 GB. They are currently shipping to manufacturers for $99 and $179, respectively, in 1,000-unit quantities. Retail availability and costs are pending (though if you can rustle up 998 other guys, maybe we can get in on that action).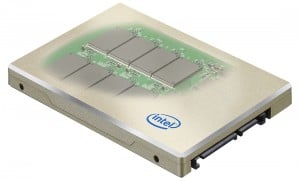 Among those early customers are Lenovo and DRS Tactical Systems Inc., whose ARMOR X10gx rugged Tablet PC I evaluated earlier this year. If the 310 Series is as fast as the Intel SSD in the ARMOR tablet, you can expect times of half a minute for cold boot and sleep/resume in a second. They pass along word that DRS will be unveiling a new rugged tablet equipped with a 310 Series SSD at Storage Visions 2011.
No mention of how Lenovo will deploy them, but their Director of Thinkpad Product Marketing Tom Butler does talk up the advantages of SSD in this promotional video. It's safe to assume any products they have ready with the 310 Series will be be shown at CES 2011.
Full press release is on the Intel website. Hat tip to Slashgear.