Intel testing WiMAX on a Dell Mini 10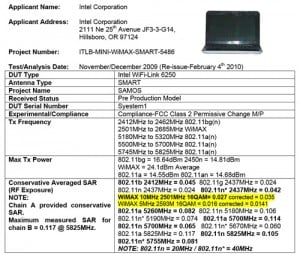 A new version of the Dell Mini 10 netbook appears to have been pushed through the FCC, basically the same as the existing version but with WiMAX. The new component is Intel's 6250 with advanced 802.11n and WiMAX. No details on service provider, but I wouldn't hold your breath waiting for that – Dell wasn't involved in this.
Near as I can tell, the testing was done on Intel's behalf. They are the applicant named on the certification and the testing focused on the WiMAX chipset. Whether Dell is actually considering this option isn't even on the table, but it's good to know that Intel's WiFi + WiMAX system has cleared a hurdle to make it an option to be considered.