Intel Unveils MID Moorestown Platform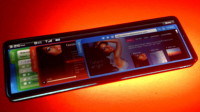 While we're still waiting for the first crop of MIDs to really roll out (there have been a few), Intel has just unveiled the first prototype running the Moorestown platform. Headed for a 2009/10 release, what Intel is showing off is a reference design for the MID platform, not an actual device. You'll hear in the video how big a deal they think this is.
Moorestown comprises of an SOC, codenamed "Lincroft," which integrates the 45nm processor, graphics, memory controller and video encode/decode onto a single chip and an I/O hub codenamed "Langwell", which supports a range of I/O ports to connect with wireless, storage, and display components in addition to incorporating several board level functions. Chandrasekher stated that Intel is on track to reduce Moorestown platform idle power by more than 10x compared to the first-generation MIDs based on the Intel Atom processor.
Another intriguing part of the announcement is that Intel is targeting Moorestown at the Smartphone market.


As an Amazon Associate I earn from qualifying purchases.