Intel Unveils Pine Trail Processor Details
Get ready for Pine Trail, the next generation of processors to run Netbooks and mobile devices. Intel unveiled details late last week and is touting improvements in performance and battery life. For those who like to keep score with alpha-numeric designations this will be the N450 chip. The key development here is combining the GPU and memory controller with the CPU, although as of yet, we don't have power info on the GPU. Intel is announcing this now and we'll see a slew of devices at CES2010 that run with PineTrail.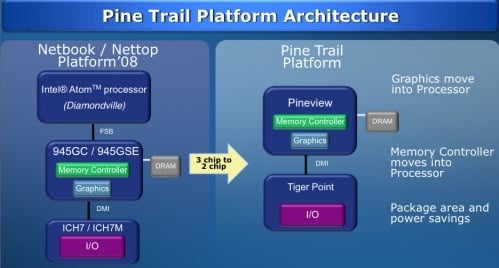 Intel obviously is trying to move past the "low performance" standard of its previous Netbook chips, but I think we'll all still be in wait and see mode for a few months yet. According to Intel we'll see significant improvements in power consumption and battery life. In Joanna Stern's review of the Asus Eee PC 1005PE Netbook sporting the new chip you'll find a picture with a sticker that advertises 14 hours of battery life. In Joanna's testing she got over 10 hours, which is impressive.
We'll have to wait and see a bit here, as the jury will still be deliberating until this new range of processors find their way into more folks hands, but Intel is stepping up its game and hoping that Pine Trail ushers in a new wave of interest in Netbooks. Intriguingly, Intel is still very much interested in having this chips running on desktops or NetTops as well, but for the life of me, I just don't get that line of investment. But maybe that's just me.
You can read more on Pine Trail at the following: