Interesting Look at the Coming 'Tablet Wars'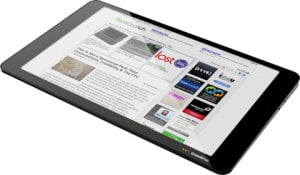 John Biggs at CrunchGear puts out a piece on The Coming Tablet Wars that's worth a read. He's pumping his boss's CrunchPad saying "When all the bugs are worked out, it will be an amazing device," and taking a look at the other offerings and rumors from Apple, Microsoft, Archos, and Creative. He points out, and I think he's right, that there are manufacturing concerns that are delaying the roll out of these devices with capacitive screens in ways that bring today's promises closer to reality.
He also acknowledges two other points that I think those with dreams of future Tablets tend to ignore.
Tablet PCs in vertical markets will still exist, but the new focus is very much driven by web and media consumption. Intriguingly he says about the CrunchPad that we shouldn't expect much in the way of media on that device.
In talking about connectivity, he says most models will have a 3G option and of course have WiFi. I'm not sure what impact this has or not, but I think we're reaching the point where folks will think twice before picking up another contract for a mobile device. Connectivity options like the MiFi will probably end up ruling the game here because I don't see the contract for every device model ending anytime soon.
I'm glad to hear even a little more mention of the CrunchPad. As it was the absence of any noise, real or imagined, was making me think it was headed towards an Ink Blot Award for Vapor Hardware.