Investor Bets $1 Billion on iPhone 5S, 'Extremely Undervalued' Apple
Billionaire investor Carl Icahn Tweeted that his investment group has a 'large position' in Apple (NASDAQ:AAPL). Though he did not disclose exactly how much he's invested in Apple, Bloomberg reports that it is in at least $1 billion.
This morning Carl Ichahn sent the following Tweet, boosting Apple's stock up more than 4.75% to close at $489.57, its highest price since January. Apple shares gained almost another percentage point in after hours trading.
We currently have a large position in APPLE. We believe the company to be extremely undervalued. Spoke to Tim Cook today. More to come.

— Carl Icahn (@Carl_C_Icahn) August 13, 2013
According to Bloomberg, Icahn has price target of at least $600 on Apple shares, which slid from a peak of $705 beginning last September. Apple's own board of directors is reportedly concerned with the company's pace of innovation.
Icahn's announcement of his company's interest in Apple comes just before Apple's expected September 10th unveiling of the iPhone 5S and iPhone 5C and the critical holiday season. While Apple's competition has spent 2013 churning out flagship devices like the Galaxy S4, HTC One, Lumia 1020 and Moto X,it's been nearly a year since Apple's introduced a new mobile device. The company introduced iOS 7, its next-generation mobile operating system in June at its Worldwide Developers Conference in San Francisco and a new Mac Pro.
Had a nice conversation with Tim Cook today. Discussed my opinion that a larger buyback should be done now. We plan to speak again shortly.

— Carl Icahn (@Carl_C_Icahn) August 13, 2013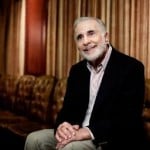 In a second Tweet, Icahn hinted that he will be anything but a silent investor. He is famous for being an activist shareholder and is in the midst of a battle with Michael Dell, who is trying to take the computer company he founded private.
In a statement, Apple confirmed that Icahn did indeed have a conversations with Apple CEO Tim Cook and that it welcomes the interest in the company's stock.
Icahn explained that he wants Apple to buy back shares a Wall Street Journal report.

This article may contain affiliate links. Click here for more details.