ION Audio Guitar Apprentice Turns iPad Into Usable Guitar
ION Audio, makers of interesting iPad accessories like the iCade gaming joystick dock, announced the Guitar Apprentice, a new attachment for your iPad that turns it into a useable guitar. Along with a forthcoming app, Guitar Apprentice will let you play the guitar and even give you lessons. Combined with other apps or games, it will give geek music lovers the best of both worlds. Use the iPad as a toy, and as a potentially serious musical tool.
Our Xavier Lanier caught up with ION Audio at CES 2012, who showed off the accessory for you. Here's his video:
My youngest son Daniel will be looking forward to the July release of Guitar Apprentice. I'm excited too, since $100 for an accessory that teaches guitar and gives you a functional and versatile guitar able to mimic both an acoustic and an electric guitar isn't that bad a deal, so long as they get the execution right.
Daniel took lessons and still wants to play guitar, but his focus has been on other things lately. His love of the iPad and video games will help him get back into the swing of things.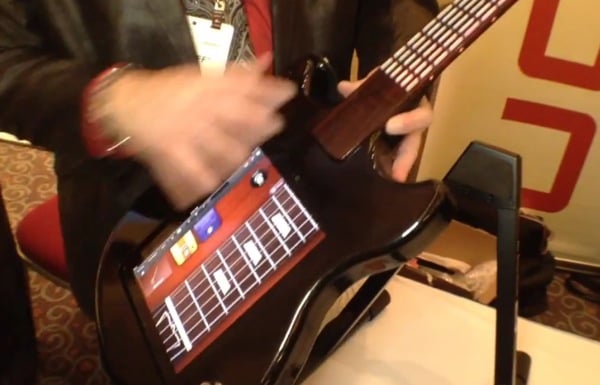 The Guitar Apprentice houses the iPad in the main body of the guitar and you strum the strings with your finger. The device's light-up fret board looks and feels somewhat like real guitar strings on a fret board. The lights will help you learn the chords the accompanying app teaches you to play.
ION Audio previously released a similar app for piano called Piano Apprentice, a free piano tutor and playing app for the iPad.
The Guitar Apprentice will be coming in July for $99 and will work with any midi-enabled iPad app, like Apple's Garage Band. Be looking for our review when it comes out.