iOS 5.0.1 OTA Update Seems to be Working Very Smoothly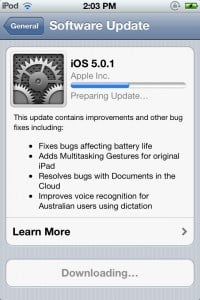 Today Apple released iOS 5.0.1, an update to its latest mobile OS that many were eagerly awaiting because Apple claims it will fix battery life issues that many have been experiencing. It's too early to know how will that works or doesn't. (The update has only been out for a couple of hours as of this writing.)
But, this is also the first real test of the Over The Air (OTA) Update for iOS 5. Remember this is one of the new features in this new OS. So far, from my own experience and what I've been seeing around the Internet, the process of updating has gone quickly and smoothly. For the iPhone 4S, it reported that the update was 55MB. The download took a little under 2 minutes. The next phase, (preparing for update) took about 3:40 or so. After that I was prompted to install or wait until later. After choosing install the process took another 8 minutes or so.
So, from start to finish, the update took about 13 minutes on my iPhone 4S. It took about 9 minutes total on my iPod Touch and about 12 minutes on my iPad 2. Not bad.
If you don't want to do an OTA update, you can grab the update via iTunes, but be advised that you're getting the entire OS and not just the delta (or fixed bits) update. That update is reporting over 800MB.
Again, it is obviously too early to know if iOS 5.0.1 fixes battery life or brings any other real improvements. But I'm sure we'll be hearing about that soon.