iOS 5.1.1 on iPhone 3GS: Final Impressions and Performance
Earlier this week, iOS 5.1.1 arrived for the iPhone, iPad and the iPod touch. As an iPhone 3GS owner who had been experiencing problems with iOS 5.1, I was extremely excited to see the update and hoped that it would take care of the issues that have been plaguing my device for the last several weeks.
In my first impressions, I told you that everything seemed to be working better.
Notification Center seemed to be alerting me to messages, something that only worked occasionally before the update. Apps didn't seem to be crashing as they had in iOS 5.1. Battery life seemed to be a little better but as I had only been playing around with the software for a few hours, I couldn't make a decisive decision. And finally, the random rebooting of my phone seemed to stop.
Read: iOS 5.1.1 on iPhone 3GS: First Impressions and Performance.
I have now spent four solid days with the software and I wanted to share my final thoughts about the software's performance on my iPhone 3GS.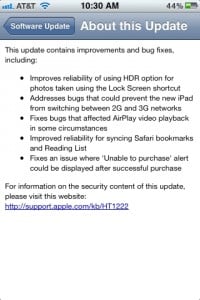 The update isn't perfect. However, I have come to accept that this will never be the case because of how old the iPhone 3GS is. In fact, I've said all along that I am absolutely shocked that Apple has managed to get this software out to the iPhone 3GS as quick as it has.
That being said, there are still moments when the phone pauses when opening up an app or when I try and open up my messages to read. Granted, the sluggishness doesn't happen all the time but it's still there and it can be annoying especially when time is of the essence.
I've also experienced a some random reboots over the past few days, something that began happening only a couple of weeks ago. I've tried to get to the bottom of what's causing them but so far, I'm lost on answers. One time I was using Facebook. Another time was looking at my iMessages. Another time I was trying to switch a song that I was playing.
There doesn't seem to be any correlation at all and that's frustrating. My hope is, that as time goes on, it gets better. Again, this isn't a fault of iOS 5.1.1. It was happening to me in iOS 5.1.
Other than those two issues, iOS 5.1.1 has shored up some of the other issues that I was having.
In the weeks building up to the iOS 5.1.1 release, applications were often crashing. Since installing the new update, I haven't experienced a single crash of an app. That has been nice.
In addition, my phone now alerts me to new messages through both push notification and in the Notification Center. Before the update, I often wouldn't be prompted when new messages arrived.
Read: How to Jailbreak iOS 5.1.1 for iPhone 4, iPhone 3GS, iPad, and iPod touch.
As for battery life, I haven't really noticed a drastic improvement. It seems about the same as it was before the iOS 5.1.1 update. Heavy use seems to take its toll on the device but it can last for quite a while when I am only using it moderately.
It's still not as bad as the battery life on my Samsung Galaxy Nexus.
Overall, it's an update that I think iPhone 3GS owners will want to install. It doesn't foul anything up that wasn't fouled up already and it definitely fixed some things on my phone.
That being said, I am becoming quite sure that iOS 5 is the end of the road for the iPhone 3GS. I had held out hope that Apple might release iOS 6, especially since the phone is still on sale, but the phone has shown its age recently and it's hard for me to be confident in an iOS 6 release any more.
I can't complain though. This phone has lasted a lot longer then I thought it would. And it's especially impressive when you think about how bad iOS 4 was on the iPhone 3G. In any event, I hope I'm wrong in my assumptions and Apple does in fact release iOS 6 for the 3GS.
How have the last four days with iOS 5.1.1 been for all of you?