iOS 5.1.1 Rolling Out to iPhone, iPad and iPod Touch with Bug Fixes
Apple has started rolling out iOS 5.1.1 to the iPhone, iPad and iPod Touch.
The software update is an over the air update, focused on bug fixes and does not appear to add any new features to the iPhone and iPad.
Owners waiting for an iPhone 4S iOS 5.1 jailbreak should avoid this update until further notice.
The update is not available for all users yet, but it is available on Adam Mills' iPhone 3GS in San Francisco area. The update is not yet available to my iPhone 4S or my new iPad, but it should arrive later today.
What's New in iOS 5.1.1?
iOS 5.1.1 includes a number of bug fixes, and likely security patches. The link for more information does not offer any more details about iOS 5.1.1 yet, but covers security updates to Apple products.
 Improves reliability of using HDR option for photos taken using the Lock Screen shortcut
Addresses bugs that could prevent the new iPad from switching between 2G and 3G networks
Fixes bugs that affected AirPlay video playback in come circumstances
Improved reliability for syncing Safari bookmarks and Reading List
Fixes an issue where 'Unable to purchase' alert could be displayed after successful purchase
For more information on the iOS 5.1.1 update visit https://support.apple.com/kb/HT1222.
How to Update to iOS 5.1.1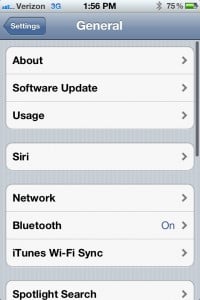 For users already on iOS 5.1.1 the update is a simple process that can be done on the iPhone, iPad or iPod Touch. The file size is 40-54.5MB, and requires a WiFi network to download.
Tap on Settings.
Tap on General.
Tap on Software Update.
The iPhone will check for the iOS 5.1.1 update.
If available, tap Download and Install.
Accept the Terms and Conditions.
If possible, plugin to conserve battery life, but the update can be downloaded and installed without plugging in if the battery is sufficiently charged.
If iOS 5.1.1 is not available, don't worry. Apple staggers the release to prevent a server overload. Try again in an hour or so. This update is not worth attempting to download manually unless it fails on the device.
Users can also plug in their iPhone or iPad to the computer in order to update. This route is required for any iPhone or iPad not running iOS 5 yet.