iOS 5.1 Release Date: What to Expect From iOS 5.1
iOS 5.1 is the next major update to Apple's latest mobile operating system iOS 5.
iOS 5 was released on October 12, 2011, right before the iPhone 4S arrived. Since then, Apple has released iOS 5.0.1 which was supposed to fix battery life issues, but hasn't solved them for all users.
If you haven't upgraded to iOS 5 yet, now is a good time to upgrade. Not only do you get great new features, but it even runs great on the iPhone 3GS.
The next big software update for the iPhone, iPad and iPod Touch is iOS 5.1. This update is expected to contain a number of bug fixes, another attempt at battery life fixes and most exciting — possible Siri updates to enhance the app.
iOS 5.1 Release Date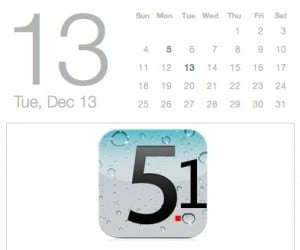 iOS 5.1 was released to Apple developers on November 28th, 2011. This beta has been in the hands of developers for a week now, but Apple has not made an official iOS 5.1 release date announcement.
Because Apple wants to fix the pervading battery issues, we expect that Apple will push the iOS 5.1 release out sooner rather than later.
Apple has released a second version, iOS 5.1 beta 2, to developers for testing. This new version brings a few more hints at new features, listed below, but early reports suggest that battery life has not been fixed.
It is possible for Apple to release iOS 5.1 before the end of December, but not a sure thing. At this point, the iOS 5.1 release date could slip to January.
iOS 5.1 Features
Battery Life
One of the biggest targets for Apple is to fix the elusive iPhone 4S battery issues.
Reports suggest that iOS 5.1 hasn't fixed the iPhone 4S battery life issues that have been hampering the iPhone 4S for a number of users, but that doesn't mean there isn't a fix in here for some users.
Or at least Apple's latest attempt to fix the battery life bug.
New Keyboard in Mail
Another new feature is a slightly redesigned keyboard in the mail. This change is visible in the recipient field of the Mail app, where you now have access to an @ symbol to speed up entering email addresses.

iTunes Match Over 3G
New to iOS 5.1 is the ability to sync and stream your iTunes Match music over 3G. This is a handy feature, but could quickly eat through the data plans of many users, so be sure that you use this feature wisely.
PhotoStream Enhancements
In the latest beta, Apple has added the ability to delete individual photos from your PhotoStream.  These photos will then be removed from the rest of your iOS 5.1 devices as well.
Siri App Control
The most exciting iOS 5.1 feature that has been rumored is the ability to do more with Siri. We have yet to see anything about this in the iOS 5.1 beta, but Apple could be sharing this feature with just a few developers right now.
Reportedly, Siri will soon be able to perform the following actions.
Interact with Apps – like to do apps.
Turn Bluetooth and WiFi on and off
Capture a video or photo
While it would be awesome to see these features in December, Apple may hold off on updating Siri until next year.
What Devices will run iOS 5.1
Like the iOS 5 upgrade, the iOS 5.1 update will work on the following devices.
iPhone 3GS
iPhone 4
iPad
iPad 2
iPod Touch 3rd and 4th Generation
Even the iPhone 3GS, which is more than two years old, handles this new operating system well.
iOS 5.1 Upgrade
Like the iOS 5.o.1 update that was released on November 10th, we expect to see iOS 5.1 available as a downloadable over the air update.
All you should need to do is connect to WiFi, download the update and wait for it to install. You should make sure you have a backup though.
iOS 5.1 and iPhone 4S Jailbreak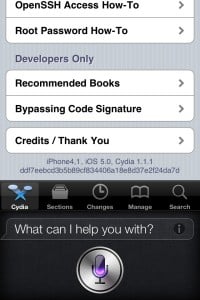 If you have been following the status of the iPhone 4S Jailbreak, you'll know that progress has been made, and the iPhone 4S has been jailbroken.
Unfortunately, the iPhone 4S jailbreak is not available to the general public yet. We recommended staying away from iOS 5.0.1 if you want to jailbreak, because it may patch holes that iPhone hackers use to jailbreak your iPhone.
(Read: 18 Reasons to Jailbreak the iPhone 4S)
There is no official word from the iPhone Dev Team or the Chronic Dev Team, but if you do want to jailbreak your iPhone 4S, you may want to pass on the iOS 5.1 update.
Waiting shouldn't be that hard to do, unless the Siri integration is really available.