iOS 5: How to Setup iCloud's Photo Stream on Mac
Once you update your mac to OS X Lion 10.7.2 and iOS 5, you get iCloud and Photo Stream. With Photo Stream in iCloud transferring your pictures to your computer got a lot easier, something you will likely want to do with the nice new 8MP camera on the iPhone 4S. I use it with my iPad 2 to move pictures I take of documents, turning my iPad into a scanner.
With Photo Stream, when you take a picture with your iOS device, the photo will automatically transfer to iCloud and will be stored there for up to 30 days.
Using the steps below, you can easily download the photo to either iPhoto or Aperture or you can save it on your iPad, turning it into a mobile photo editor. The iPad's much larger screen will make editing easier.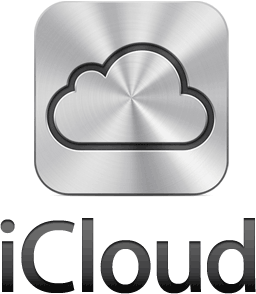 KT Bradford already showed you how to set up iCloud with your Windows PC, but here's how to do it on a Mac.
Before you do anything on the computer, turn on Photo Stream in the Settings app on your iOS device. Do this by going into the iCloud tab and make sure the Photo Stream is set to On.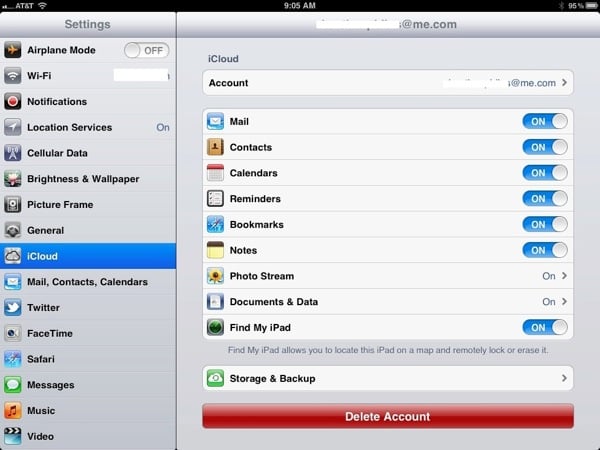 While in that Settings page you may want to poke around and enable other services as you prefer.
Now you need to do the same on your Mac. Go to System Preferences (from the Apple Menu or if you have the icon on the dock click it) and choose iCloud from the Internet & Wireless section. If you haven't already set up your iCloud account, it will ask you to do so now. Once  you've done that and are signed in, check off the Photo Stream item to enable it on your Mac.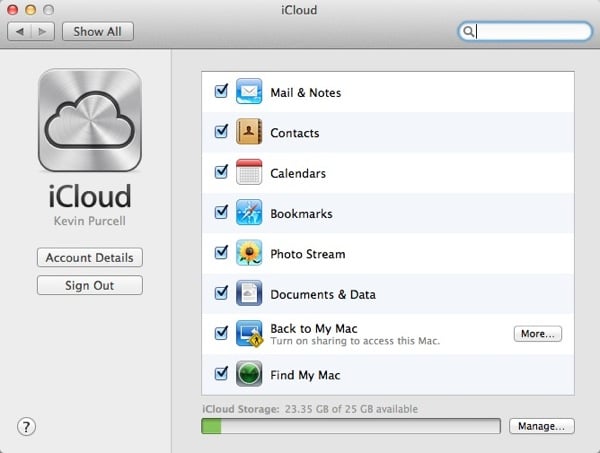 Now setup Photo Stream in iPhoto or Aperture, depending on which application you use and where you want Photo Stream to download the pictures. The process works the same for both applications. Open either iPhoto or Aperture and go to Preferences from the iPhoto/Aperture menu. Check Enable Photo Stream and then if you want photos to automatically be downloaded, check the first item – Automatic Import. If you also want all photos that you load into iPhoto to automatically be uploaded to iCloud, then check the second item – Automatic Upload.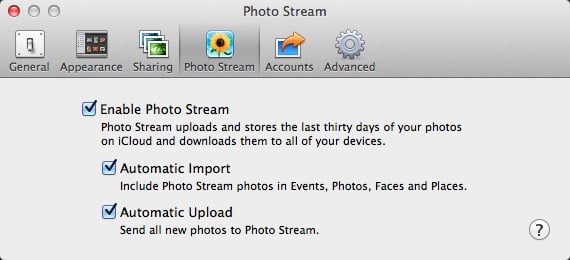 I will be unchecking the second item since uploading all of my photos to iCloud will quickly eat up the storage I have. I plan to just use iCloud's Photo Stream as a way to quickly get my iOS device pictures to my computer rather than using it as a complete backup for my pictures. They will only stay there for 30 days anyway.
I did a test and shot a picture of my computer with my iPad 2. I waited just a few seconds and guess what? It showed up almost immediately in iPhoto.
If you try to enable both programs to use Photo Stream, the second one will throw the error below. You can switch Photo Stream capability to the second program instead. You just can't use both at the same time.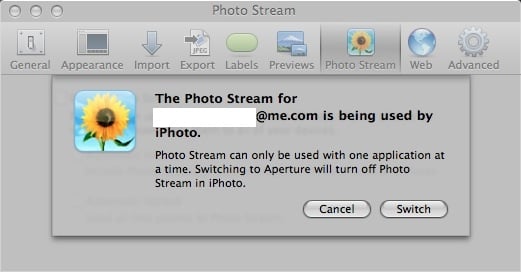 Photo Stream will make life much easier for photographers, who also use their iPads for photo previewing in the field. Shoot your pictures, then import them into your iPad using the $29 iPad Camera Connection Kit Apple sells for connecting either a USB camera or an SD card to your iPad. Photo Stream will recognize the shots after you import them into the iPad and instantly upload them to iCloud. iPhoto or Aperture will then download them back to your computer.
Awesome!

As an Amazon Associate I earn from qualifying purchases.